---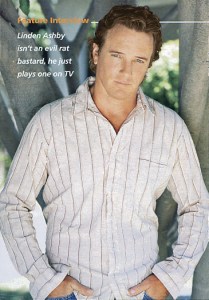 Linden Ashby isn't an evil rat bastard, he just plays one on TV.
The Nice Side of Genoa City's Nastiest Villain
By Julie McElwain
For a guy who has saved the world a couple of times (as he did as Johnny Cage in Mortal Kombat), THE YOUNG & THE RESTLESS' Linden Ashby is having a remarkably good time playing one of the sleaziest men ever to slither into Genoa City. Playing Cameron, he deadpans, "is not that hard a stretch."
He's joking, of course. But although Ashby has been happily married for 18 years to Y&R co-star Susan Walters (Diane), he says he's observed a lot of Cameron types. "You see people like him in Hollywood a lot. Celebrity and wealth is like a powerful drug. You have to keep having to raise the bar to get your thrill.
"I think that's probably a definition of addiction," the showbiz vet adds. "Cameron is really the victim of an addiction. He lives in a world where no one says so. He's a very bright guy. He's a powerful guy. He's a very rich guy. He's a handsome guy, if I do say so myself! I think for him, the bar has been raised, and he has just lost touch with what normal people do. He doesn't realize his obsession."
Why Cameron Couldn't Die!
As everyone else knows, though, the software tycoon's obsession has been Sharon since he first cruised into town. While he knew about his alter ego's fixation, Ashby insists he didn't anticipate all the Machiavellian twists and turns to the storyline - namely what happened after Sharon whacked her former lover with a champagne bottle. "[My run] was going to be 15 shows," he reveals. "It was right before Christmas, Susan was on the show... It was sort of a lark, because I knew all these guys."
However, Ashby says that Y&R's co-executive producer/co-headwriter, Jack Smith, and the audience saw something that intrigued them. "Jack took the ball and ran with it. He said, 'You're alive! What do you think about that?'"
So I pitched some ideas... he pitched some ideas... Jack then took it, and it snowballed."
The powers that be warned Ashby not to reveal that Cameron survived. "They said it would leak like the

Titanic

!"

The Contract Ashby Craves
Ashby has achieved success on the silver screen and in primetime, but, while he started out on a daytime soap (as a recast on LOVING), he had no problem walking down that path again. It's about the work, he shrugs. Besides, he's still not on contract. "I did a film in March. They worked with me on that at Y&R," he notes, adding, "Having a contract can be a double-edged sword. On the plus side, a contract ensures that an actor gets to work a certain amount of days." However, "because of budgetary constraints, they'd get in trouble if they go over that. The storyline gets limited because of [money]."
If he was approached with a contract, Ashby says he'd like to structure it differently. "I'd be more interested in, say, you give me X amount of dollars for [a] cycle. You can use me for one day or you can use me five days a week, because they're paying me the same amount," he reasons. "It encourages them to write for you. If I'm going to be there, I want to be in the mix."
Wanted... Dead, Not Alive
Of course, a character with as many dark undercurrents as Cameron often means a future that includes one of two things: death or redemption. Ashby already knows which one he'd pick. "Why do we need redemption? I have a hard time with this Kevin storyline. He's done all these terrible things, and they're trying to redeem him. He's done attempted murder, arson, rape... and I'm supposed to feel sorry for him because he got beat up?"
Ashby shakes his head. "No, I'm not big on redemption," he says, then laughs. "Redemption is for sissies. Maybe Cameron won't get caught. Did you ever think about that? But if he gets caught, they'd better kill him. I want to go down swinging!"
FYI
Birthplace: Atlantic Beach, FL
The Name Game: The actor's real name is Clarence Linden Garnett Ashby III.
Child's Play: Ashby and Walters have two beautiful daughters, Grace and Savannah.
Good Sport: Even though he's known for his martial arts expertise, Ashby has also been a competitive surfer since he was 9.
The Friendly Skies: Who needs to wait in line at the airport? Ashby' certainly doesn't, since he owns a Piper Lance airplane.