---
Pop Stars
From "amazing love" to arrest warrants, nine daytime dads share the highs and lows of fatherhood. Everybody get ready to say "Awww...."
Young And Restless - Linden Ashby (Cameron)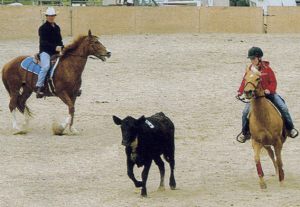 One of Ashy's favorite family activities is horseback riding. Here, he is pictured with older daughter Grace.
Offspring: Grace, 13, and Savannah, 11.
What is your ideal Father's Day? "It's not football season, so we can rule that out. I would get up, have a cup of coffee, got to the beach, catch some great waves, come back, [horseback] ride in the afternoon with the family, go out and have a great dinner and then hang out with the Mrs."
What has been a great dad moment? "There are too many to mention. Not to sound Jerry Maquire-ish, but [fatherhood] completes you. It give you a purpose for being on this planet. It takes the focus off of yourself. You are no longer No. 1, and it's probably the greatest gift you can give yourself."
Were men who have daughters once randy young lads themselves? "It's called karma [laughs]. Instant karma. It's payback."
What will happen when your girls get to dating age? "I'm going to show their boyfriends my gun collection. Actually, I just hope that they have better judgment than the girls I went out with [laughs]."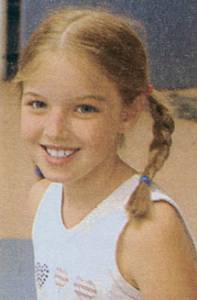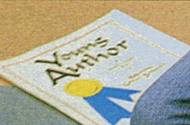 Younger daughter Savannah proudly displays her Young Author Award.
Do you have a parenting role model? "Jesus had no children."
What do you see of yourself in your girls? "They have good imagination, and they got some of that from me. The way they deal with certain situations: You watch them deal with things, and you can see just how genetically people are wired. Grace deals with tension and stress the way I do, which is not always the most positive way. I meet fear and stress with agression. I see some of that in her, and it makes me recognize how silly it is in me. In Savannah, the way her mind works is a carbon copy [of mine], the way she things and puts things together. Adn they both have pretty good values. They get that from [wife] Susan [Walters, Diane]."
What habits do you not want your children to pick up from you? "Everything!"