---
Southern Beau
Written by Kathryn Harris
Photographed by Randee St. Nicholas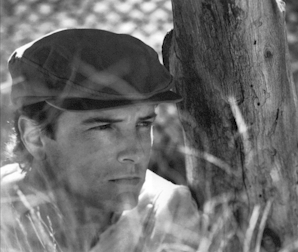 Linden Ashby --great name, good head on a cute pair of shoulders, but best yet, his face is not a familiar one. You won't recognize him unless you were an avid fan of ABC's soap Loving, in which he starred for two years, or NBC's mini series Poor Little Rich Girl, in which he played opposite Farrah Fawcett.
Nor will you be introduced to him in the way I was, in the sophisticated setting of Beverly Hills' Maple Drive restaurant, where Linden stared momentarily at the dubious Madam Fleiss, seated but serviette-throwing-distance away. Instead you will no doubt meet and grow to love Linden via the wild and free spirit of one of the younger members of the mythic family of American lawmen, the Earps, in Warners' upcoming release of a Lawrence Kasdan (Body Heat, The Big Chill, Grand Canyon) film, Wyatt Earp. Linden, whose Southern drawl which still lingers despite five years in New York and another four in Los Angeles, and whose speech cadences are not dissimilar from Jimmy Stewart's, landed the much coveted role of Morgan Earp beating many established actors to the OK Corral.
Over a beer and while chewing on some brightly colored Hawaiian tuna, Linden tells me about the film experience of a lifetime, working with one of America's top-of-the-line directors, and some of its finer actors, which will bring him to the fore after relative anonymity in television and theater. "Kasdan was somebody that I had always admired, a great guy and a great filmmaker," he says. "It's that old thing about the more successful you are, the less you have to prove, and he seems like a man who doesn't have to prove anything. His friendliness and geniality are disarming. You almost forget that this guy is brilliant and just might be a genius, when he's also just a let's-get-a-drink-together-and-smoke-a-cigarette kind of guy."
But this movie was not plain sailing for Linden from the outset. To describe the rehearsal period, Linden plucks the word "mortifying" from his extensive vocabulary. "You walk into the room and realize that you're the only person you've never heard of. All my actor's insecurities came out. I kept thinking that any second they're going to walk up and say to me, 'We tried to make it work, but it was really a big mistake, and we're going to have to replace you.' I really don't know how I made it through that rehearsal week." When he returned to the L.A. home he shares with his wife, and daughters Grace and Savannah, he just passed out from exhaustion. "It was the most stressful week of my life," he recalls.
Linden says that after they go underway with principal photography in Santa Fe, it became an experience which will be hard to match, leaving him depressed several months later. "Larry makes it like a family. Everyone views dailies. You can bring friends to share in the popcorn and pizza that he provides. Everyone is treated with respect, and he makes a real issue of that. There are no prima donnas."
As he spears another mouthful of tuna --on the rare side-- you've got to wonder how fantastic it must have been working alongside the big boys -- Kevin Costner, Dennis Quaid, Gene Hackman, and Michael Madsen.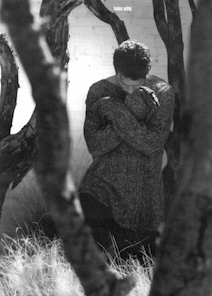 Most of Linden's scenes are with Kevin Costner (Wyatt) and Dennis Quaid (Doc Holliday) and, mirroring their screen personas, they seem to have shown Linden enormous affection. "Those guys are the best at what they do, and anything else is like a letdown," he says. Linden reveals that Kevin has a side to his personality which may come as a surprise to many -- a highly developed sense of comedy "He wanted to play Mrs. Doubtfire," according to Linden. And Dennis Quaid, who plays an alcoholic, educated dentist, a dangerous man dying of tuberculosis, was on a regimented diet, with very strict caloric intake each day. "You won't recognize him," Linden tells me. "He went from 175 pounds to about 139. He came in in the morning and put on his Doc face and kept it on most of the time. I don't think he realized how much Doc he was. All I can say about that is that everyone was happy when he started eating again. He's a great guy."
Lawrence Kasdan says that when casting the role of Morgan, he was looking not only for someone who could pass as Kevin Costner and Michael Madsen's brother, but someone who was charming with a youthful recklessness, and Linden embodied these qualities. "He's lively, with a winning personality," Kasdan says, "He's very open and energetic, ready to learn. He's athletic, which is a big part of American movie acting. It's hard to tell what's ahead for him, but he's certainly in a good place for a career in American movies. He's the kind of guy we've generally been drawn to as leading men, with sweetness and sex appeal." Linden's good looks are versatile. It is not hard to imagine him paying anything from psychopaths to heroes, and as Kasdan confirms, "all the good ones can."
Born in Jacksonville, Florida, Linden is the only son in a three-child family. His dad is president of a company which manufactures and distributes over-the-counter pharmaceuticals, and his mom is the leader of some local business which teaches upwardly mobile young professionals how to network. "I think that's what she does," he says, scratching his head while lighting up a Marlboro Light. Linden didn't have a burning passion to take up acting until he was in college, where he was studying, amongst other things, psychology and business. At one point, he wanted to raise collies and play rock 'n' roll. He still sings and writes, and used to play around town in bands that came and went, favoring "real straight-ahead rock" he says. "But its a young man's game. At 33, I may be too old."
He studies acting in New York with Sanford Meisner, whose emphasis was upon being, rather than acting. One of his maxims sticks in Linden's mind: "I want my actors to be of the theater, rather than in the theater." Linden says his own ideas about acting are very simple. "We're colors on canvas. We each bring our own individual thing, and hopefully help create a beautiful picture. You do your homework, be as honest as you can be, and do the best job possible; leave your ego at home, and hopefully do something that touches somebody. I want to be still doing this when I'm 80." As for the films he prefers, he says quite adamantly, "They should all be art movies. But that is not to say a picture has to be a profound and inaccessible thing."
He particularly loves Peter Weir's films (Dead Poets Society, Green Card, Fearless) and had a conversation with Kasdan about them. They both agreed that Weir doesn't pander to his audience and that he doesn't think to himself that maybe people won't get something, and therefore drop his work down to the lowest common denominator to appease them.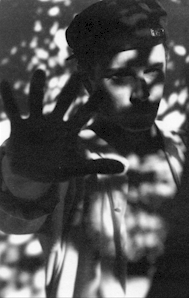 He's not crazy about Los Angeles, but it seems to be a necessary evil for an actor with a career in mind. He lives in the Valley with his family, so he is spared a lot of the crassness of the city, about which he is not slow to complain. "This town can break your heart on a daily basis, take your soul, and you won't even know it's gone. I think it's taken so many people's, and they are so full of shit, they don't even know they're full of shit." Some people have a head start, I add. He says he has little patience with the Hollywood party stuff, and at such events he can often be found either chatting with the caterers or people from out of town.
As gentle and reasonable as he is, you get the impression that it was not a huge stretch for him to play Morgan Earp, the hotheaded youth, the only character in the movie who sports two guns. Morgan is up for anything that's fun, and Linden, I think, is no stranger to good times. He's also a man of opinions, and is not afraid to voice them. "I can't stand that part of Hollywood which is, 'Who are you, what can you do for me?'" He finds that type of insecurity and stupidity really ugly, and knows not where it comes from, but says, "If you treat me good, I'll treat you good."
This down to earth kind of approach extends into the rest of his life. He does not consider himself a follower of fashion, but is anti-hip and proud of it. He rides a Triumph Bonneville 750 he purchased in New York, way back when they weren't cool to ride. In fact, now that they are, he says maybe he should get a Yamaha or Honda, something less flash. As for fashion and the clothes you see him sporting in the accompanying photos, he laughs. "The shirt was hilarious, a ripped-up sort of gauzy thing. They told me it cost between three and four hundred dollars. If you gave me the money, I might consider wearing it in public." I wonder how many Detour readers constitute the public? As for Linden and his other life pursuits, he claims that as the father of two and working actor, he has little time off. But when he does he likes to surf, play golf and tennis, or potter around in his yard. How very American! He also plays with his big beige dog called Boo - 115 pounds of Rhodesian Ridgeback.
We're winding down over some espresso. "What else would you like to know?" Lind proffers. My usual stuff--When's your birthday? "I'm a Gemini. May 23rd," he obliges, and then adds, looking over to the other side of the restaurant, "I wonder what the fascination is with prostitutes. I guess it's a power thing. You can have whatever you want, you pay for it. I can't imagine that it would be that great. I mean, it's the girl's job, and if you think anything else, you're kidding yourself."
---
Photography: Randee St. Nicholas
Styling: Philip Block for Cloutier, LA
Grooming: Lori Matsushima for Cloutier, LA
First Picture:
Gauze Shirt by Dolce & Gabbana
Overalss by DKNY
Cap by Fresh Jive
Second Picture:
Sweater by DKNY
Suede and Cotton Jeans by Fresh Jive
Third Picture:
White Silk Shirt by Gasper Saldana
Linen Pants by X-Collection
Hat by Fresh Jive