---
Cameron's Alive on Y&R!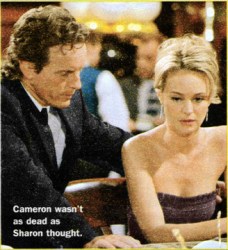 Cameron wasn't as dead as Sharon thought.
Cameron pulls an Isabella this week on
The Young and the Restless
and comes back from the dead.
"He's alive because when Sharon knocked him out she dragged him out to the Dumpster, and then something happened that we don't know about yet," teases executive producer/co-head writer Jack Smith.
"Obviously, he wasn't really dead. When we didn't see on-camera but will see when the sotry unravels is that he woke up and...." Well, stay tuned.
Needless to say, Sharon is stunned. Cameron explains that he disappeared after the New Year's Eve party because he met up with an old girlfriend and they went to a private Caribbean island on vacation. Also, needless to say, Nikki thinks Sharon is nuts. She accuses Sharon of making up the whole attempted rape/murder story. Sharon doesn't know what ot think - especially when she confronts Cameron and he declares she's making everything up too. "And yet Sharon saw that the body had the same clothes on that Cameron had on when she killed him...." hints Smith.
This much we do know: Linden Ashby never really left Y&R and he will continue to orecur. His wife, Susan walters (Diane), laughs. "He's alive at this point, which is a good thing. I haven't really kept up with the storyline, but I did see him as a ghoul. Christian [LeBlanc, Michael] saved it and showed [our daughters] Savannah and Grace. We were cracking up."
Too bad Sharon isn't laughing.