---
on the cover: body of evidence Y&R's Cameron has a big surprise for Sharon - he's alive!"
Better Off Dead
Cover Story by Tom Stacy
Y&R's Sharon And Nicholas Get The Shock Of Their Lives When Cameron Shows Up Alive And Kicking
Just when Sharon was convinced that her tormentor, wealthy businessman and sleazy misogynist Cameron, was dead and gone, guess who strolls back into Genoa City? That's right... The Mother's Day brunch concluded with the jaw-dropping appearance of the scoundrel. "This story is full of twists." grins YOUNG AND RESTLESS Executive Producer/Co-Head Writer Jack Smith. "And now it shifts from high gear to higher gear."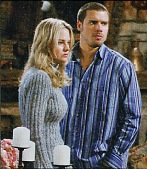 Hush Up:
Sharon has gone to great lengths to keep Cameron's
"When we start the week, Cameron greets Sharon, Nikki, and Nicholas," Smith details. "He explains that on New Year's Eve, the most wonderful, crazy thing happened after he left the part: He met a woman. They had a great night and spontaneously decided to take off for a private island, which he did the next morning without telling anyone. He decided that he'd been working very hard for a long time, his company was well in hand and he decided to disappear with this lady he met. Things were great for a couple of months and then it was over. He's come back a renewed, regenerated man."
"Sharon is shocked," notes her portrayer, Sharon Case. "She's freaked out. She is trying to figure out how this could be, with all the events that have taken place and dragging his body around. She saw the body in the sewer, so she's thinking, 'How is this possible?'"
Sharon isn't the only dumbfounded one, as Nikki begins to doubt her daughter-in-law's sanity. "Initially, Nikki wonders if this whole thing that Sharon has gotten her involved in was a bunch of baloney," asserts Smith. "An yet, there was a body. They saw it. Obviously, it wasn't Cameron's so Nikki is starting to wonder if maybe Sharon killed someone and has been using this story as a cover-up of some sort."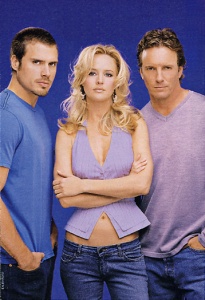 Oblivious to all the underlying tension is Nick. "he doesn't think anything sinister has happened." says portrayer Joshua Morrow. "He's totally unaware of the fact that Sharon is involved in this. He's more pissed off that this guy vanished in the middle of this intense negotiation that would have been Nick's calling card in the business world. Nick jumped through massive hoops to get this deal done, but now he's hopeful that he could still pull it off."
But befuddled Sharon demands answers. "She confronts Cameron later in the week," Smith says. "and Cameron is amazed at her story. He claims that's not what happened at all, that she must be losing her mind and perhaps she should seek some psychiatric help. He's smooth, charming and very concerned for her. He admits that he regrets what happened in Denver. She's thrown and confused by this, but as time goes on, she starts to realize that this [bastard] is up to something and the question becomes: what?"
So what is he up to? "This is a constantly evolving plot," teases Linden Ashby (Cameron). "I still think it started out as something else and it became about Sharon. Then, it became about being hit on the head and left for dead in the snow. He might be just a little itty bitty bit pissed off about that. [laughs]."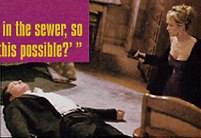 New Year's Evil
Meeting Avid acquaintance Cameron has hardly been a holiday for Sharon.
And that's cause for concern on Sharon's part, as she is paralyzed with the fear that Cameron with reveal their tryst to Nicholas. "Nikki's been trying to convince Sharon that if he's alive, it's a good thing because that means she didn't kill anyone." Case nods, "But Sharon doesn't look at it that way because if he's alive, then he's still trouble."
What the devil is that devil Cameron up to? "That's the big question," acknowledges the tight-lipped Smith. "As we move into June, we start to realize more about Cameron's plan." Says Ashby, "There's a great old saying: 'When you kill a king, make sure he's dead.' And that would my advice to Sharon, because you don't want this son of a bitch getting up."
---
Dead Again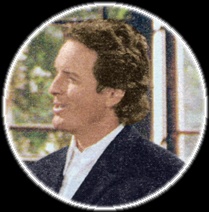 Linden Ashby (Cameron) swears he had no idea that the wicked character he originated last November would triumphantly return from the dead. Honest!
"I got lucky," he shrugs. "They wrote something that was fun and the audience responded to it and they went, 'Hey, we've got something that works here. Let's get a little more mileage out of it.'" Ashby says that when he got the call to return, he was just as flabbergasted as Sharon was to see Cameron again. "I went, 'What am I going to be doing? How am I alive? What have I done? Where have I been? Where am I going?' None of those questions have been answered, however," he laughs. "I just wander in and play it by ear. I have no idea how long I'm back for. It's all very twisted. This all sprang from Jack Smith's twisted mind. Jack, I hope he never gets therapy, but he could probably use it [laughs]."