---
While You Were Out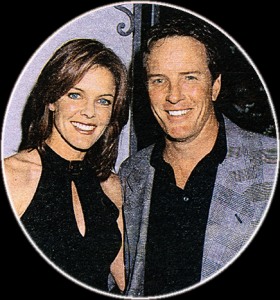 SOLO STAR: Walters managed sans Ashby.
It was a major coup for the
The Young and the Restless
' Diane to finally get Jack into the sack, but the day wasn't as satisfying as her portrayer had hoped.
"I haven't even seen it! Isn't that horrible?" laughs Susan Walters, "We didn't have a TV or VCR available, [because we did work on] the kitchen and the den, then we put all new windows in the bedrooms." Mired in construction mess, Walters was much more concerned with the holidays.
To make matters worse, she was running the home show solo. "My husband, (Linden Ashby; ex-Curtis, Loving) was out of town doing a movie (Outrage). It was bad, because he was the contractor of our construction and he left town. I was Mom, Dad, housekeeper, contractor, horse feeder, horse exerciser, pet carer, homework helper, actres.."
But with a lot of sweat and a little luck, the holidays came together. "I got a faucet with running water by Thanksgiving Day, which I was extremely excited about, and I ordered in from Ralph's [Grocery]. Best thing I ever did. Great turkey."
Even better? "My parents were in town, and my husband surprised us on Thanksgiving Friday!"
Just in time to put up the Christmas tree.