---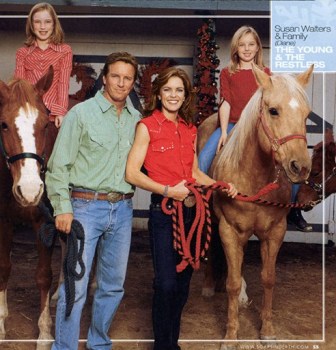 Walters and her family don't horse around when it comes to the holidays: They take their traditions seriously.
Oh, Christmas Treat
Susan Walters (Diane, THE YOUNG & THE RESTLESS) describes the Christmas season as a time for family. "I've always spent it with my family. We usually go to Atlanta [my hometown] first, then Florida [my in-laws] for New Year's Eve."
The actress makes sure her family of four, hubby Linden Ashby (Curtis, LOVING) and daughters Grace, 11, and Savannah,10, have a big tree with special ornaments. "We collect a new Christopher Radko every year," she is also seeking out a new tree topper. "Boy, is what we've been using ugly," she laughs.
Younger daughter Savannah admits to loving the "festive feel of Christmas. We go to this street not far from where we live where all the houses are decorated, including a Disney house with a flying Aladdin!" As for what she's hoping to find under her well-trimmed tree, the young lady leans toward the traditional, with "some new American Girl and Madame Alexander dolls" at the top of the list, as well as a horse.
"A white quarterhorse with tiny red polka dots," laughs her mom.
As for Grace, she, too has an animal on her wish list, although something a bit easier to fit on Santa's sleigh: a golden retriever puppy.
Her favorite part of the holiday season is "spending time with my grandparents." She also looks forward to that white stuff falling from the sky. "That's the other great part about Christmas," she enthuses. "Snow!"