---
Y&R Sharon Lashes Out!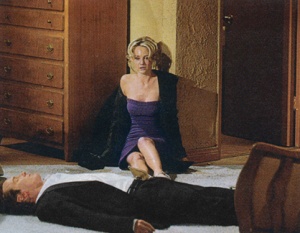 When cornered, Sharon came out swinging... a champagne bottle!
Ever since Sharon first laid eyes on Cameron, we knew trouble was brewing. But just how much trouble didn't become clear until Sharon made the disasterous decision to confront her enemy in a sleazy motel. We watched - barely able to keep ourselves from yelling at the screen, "Stay away from him, you fool!" - as Sharon threw aside caution and common sense in a last-ditch effor to persuade her abusive former lover to leave her alone. Sharon Case's performance was a brillant mixture of fragility and fierceness as her alter ego was driven to do the unthinkable - not only killing Cameron, but then covering up the crime. If this is any indication of what's in store for Genoa City denizens in the new year, then we're already rubbing our hands together in anticipation!