---
Still Speaking My Mind - Holiday 'Cheer' and Jeers
By Mimi Torchin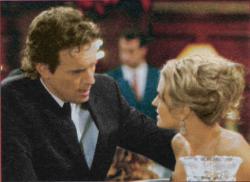 Although two New Year's stories were pretty distasteful and not very "cheer-full," Christmas was all about family and differences put aside for the season, I was especially moved by great ladies Jeanne Cooper and Jess Walton. As a gesture of good will, Katherine and Jill each took a gift to the other's house at the same time. Naturally neither was home, but they reunited at the Athletic club and shared a tentative mother-daughter moment. Meanwhile, back at the ranch... Victor was home for Christmas after bailing himself out of jail (thanks to a visit from pre-catatonic Ashley!). It wasn't a very merry holiday, but he did it for the grandkids.
The New Year's show had very few warm, fuzzy moments as it featured two of Y&R's most despicable villains in recent memory: sexual predators Cameron and Kevin. Kevin, who managed a clean bill of health by using antibiotics (after he gave 15-year-old Lily Winters an STD), had the restraining order lifted that kept him away from her. He scurried (like a cockroach) to the Winters' home to inform them of these events, gloating and hoping to ruin their evening. It didn't work.
Poor Sharon had an even worse night. Cameron, the violent businessman who brutally beat her after a one-night stand several months ago, was in Genoa City ostensibly to do business with Nick. Cameron blackmailed Sharon into meeting him at a cheesy hotel, and when she refused to sleep with him, he attacked her. She fought him off and hit him over the head with a champagne bottle, setting what looks like a murder plot into motion. OK, not very cheery, but very dramatic - and, after all, the holidays are hell for a lot of people.