---
Young & Restless - Storyline Recaps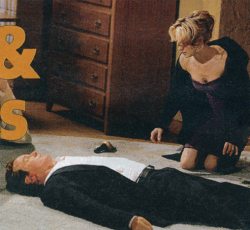 Once again, Sharon found herself in a compromising situation involving a man.
Sharon Admits She Killed Cameron!
Sharon panicked after striking Cameron with a champagne bottle in order to defend herself from his lewd advances. When he died, she wrapped the creep up in a sheet and dragged his body behind a trash container in an alley. Back at home, Nick noticed a welt on his wife's face. Sharon covered by saying that she'd fallen on the ice. Taking notice of Sharon's late return from the New Year's eve part, Nikki vowed to find out where her daughter-in-law had been. A frantic Sharon summoned Michael for a conference, during which she admitted to killing Cameron in self-defense. Michael advised Sharon to tell the police what had happened, but she refused. Failing to get any dirt from Gina, Nikki decided the best thing to do was directly confront Sharon on where she'd vanished after the party. Nick, meanwhile, began to wonder what happened to Cameron, especially after learning the businessman had never checked out of Genoa City Athletic Club or received the paperwork they'd been discussing.
Jack Betrays Phyllis
As a gesture of good faith, Phyllis gave Jack the important neofinitia orchid from Dru's bouquet. Later, Neil informed Phyllis that her husband had already come into possession of an orchid. A betrayed Phyllis vowed revenge, and later resigned from Newman Enterprises. A guily Jack turned to Diane for support wondering if his failure to be honest with Phyllis meant that he had sunk as low as Victor. But when Damon reported that the crucial flowers had been swiped, Jack realized that Phyllis had made off with them in retailiation for having been deceived. With Dru by his side, Jack confronted Neil, asking if he was somehow involved in the flowers vanishing. Neil denied the accusation and took Jack to task for treating Phyllis so shabbily.