---
The Nightmare Gets Worse for Y&R's Sharon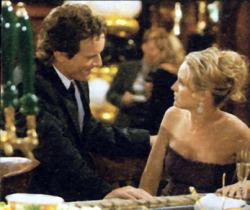 One More Night? Y&R's Cameron (Linden Ashby) won't take no for an answer from Sharon (Sharon Case).
Sharon's one-night stand, Cameron, is a bad pill who just won't go away, but as Y&R Co-Executive Producer/Co-Head Writer Jack Smith previews, this ain't your typical tale of marital infidelity. "I wanted the audience to know right off the bat that this was not a Sharon who went out and had a good time," states Smith. "She was vulnerable, drunk and got picked up. She had walked away from her children. She had just kissed Victor. She was convinced that Nicholas would never love her again. Leaving her family was the hardest thing she'd ever done."
Now, the abusive Cameron still wants Sharon and isn't taking no for an answer. "This guy continues to haunt her. Sharon is trying to prevail on him to back off, but he won't. He's had a taste of the beautiful Sharon and wants more."
So, what's Sharon to do? "She can't call the police. She can't tell Nick. She scared to death. Michael, as her attorney, will keep it in confidence. But she makes three mistakes. The first was not telling Nick. The next two are doosies!" Smith teases.
He also reveals, "We'll be shooting a remote in conjunction with this story. We plan to keep pushing the envelope and hopefully excite the viewers, so, for the next couple of weeks, they'll be saying, 'Oh, my God. What's going to happen to her next?'"