---
Young & Restless - Storyline Recaps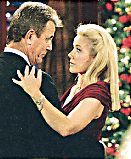 Nikki pulled away from Victor after learning what he'd done to her company.
Victor Learns The Truth!
Believing Michael and Phyllis had ratted him out to the Feds, Victor asked Nick to run Newman while he battled the legal mess. Nikki's initial happiness over Victor's decision to let Nick run the show took a startling turn when Jack revealed what her hubby had done. The furious blonde blasted Victor for his actions, and refused to listen to his apology as she stormed off! Nikki also took her anger out on her son, but Nick insisted he had done nothing wrong! Victor accused Michael of being the one to turn him in, but soon concluded Nick had been behind the betrayal! Shocked, Victor confronted his heir. Nicholas refused to defend his actions, and Victor, realizing that his worst suspicions had be confirmed, declared that Nick was no longer his son!
Sharon's Past Returns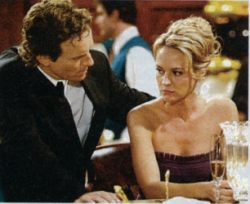 Cameron was careful not to let Sharon's kids hear his very dirty sweet nothings.
Sharon was sickened when Nick admitted what he'd done to Victor, but that was nothing compared to the reaction she had upon spotting Cameron in her husband's office! Frekaked out, she sought legal advice from Michael, admitting that during her MIA months last winter, she'd slept with Cameron, who had then become sexually abusive. Michael urged her to come clean with Nick, but she feared that doing so would tear her fragile marriage apart. The shocks just kept on coming when Nick later told Sharon he wanted her to join him for dinner... with Cameron! Hoping to head off a potential disaster, she paid a visit to Cameron. Despite being shocked to learn Sharon was Nick's wife, Cameron refused to nix the dinner plans. When he made a sexually suggestive comment, Sharon scurried off to see Michael, who again suggested that she confess to Nick and press charges against Cameron for his past abusive behavior. Unable to do that, Sharon came up with Plan B, and persuaded Nick to let her bring the kids to dinner. Unfortunately, her attempt to show Cameron her happy home life only amused him, and, with the kids and Nick out of earshot, the rogue continued to torment her with sly innuendo! Freaked out, Sharon ended up snapping at Cassie, and later returned to speak privately with Cameron, begging him to leave her alone!
Jetting to Japan
Damon wasn't thrilled when Dru announced that she and Neil would be getting married in Japan. Worried that Damon might be trying to cut her out on her cosmetic discover, Vanessa insisted on going with him to Japan, and, to alleviate suspicion, the two posed as a couple. Neil persuaded Phyllis to attend the wedding, suspecting Dru was up to something other than saying "I do." Phyllis only agreed when she learned that Jack would be attending. For his part, Jack only agreed to make the trip when he discovered Phyllis would be going. On the jet, Jack warned his colleagues that they needed to keep quiet about their mission, and then caught Phyllis tyring to listen in on the meeting!
Genoa City Update
J.T. was upset when Colleen opted to visit her mother rather than attend the Winter Ball. However, Brad surprised him with tickets to accompany Colleen to the Big Apple! A worried Victoria's requst that he protect Victor left Michael feeling guiltier than ever. Later, Nikki lambasted Michael for being the real culprit behind the bribery scheme. He denied it, and after she huffed off, called Chris for a meeting! Brittany continued to freeze Raul out, but warmed up considerably when bobby kissed her! Still, her admission that she couldn't stop thinking about Raul annoyed the club owner. Bobby suggested they go on a date, but insisted that she not discuss her ex-boyfriend. A concerned Katherine, speaking from experience, accused Jill of having a drinking problem. Mary begged Chris to keep Paul from getting back together with his other ex-wife, Lauren. Chris refused, although it did bother her to see Paul and Lauren flirting with one another. Luckily, Chris had Danney to distract her!