---
The Young and the Restless (2004 Previews)
Baby, it may be cold outside, but for a few Genoa City denizens, it could be just as chilly inside, as once-hot relationships cool down while others become decidedly frosty! According to co-headwriter/co-executive producer Jack Smith, "The holidays are more of a relationship-building time." But after that, all bets are off! In fact, the town had better brace itself for the introduction of one stranger in January! Here's a look ahead:
Chris Plays the Field
Even though Chris and Paul recognize that they may get along best living apart, the dynamic duo have a little trouble watching each other move on romantically. Still, as Paul distracts himself with Lauren, Chris will turn more to her first love, Danny. "[They're] rekindling a lot of the old feelings and discovering some new feelings," Smith relates. Not surprisingly, Paul will also become involved in the Danny/Chris story - but with an unexpected twist. Hints the scribe: "Danny is going to have a secret of his own that Paul is going to discover."
Law and Disorder
Still, Chris and Paul will put aside their personal problems to hook up professionally. "Paul is going to be very involved with Chris in the investigation of Victor Newman," Smith reveals. Yet Chris may soon regret the connection when the detective uncovers something she has done that is questionable. Even more questionable is what he'll do with the information!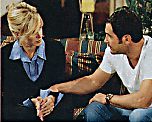 Just when Brad thinks that the good times are here to stay, the bad times start to roll.
Will Brad's Worst Nightmare Come True
It appears that Brad finally has his wife back, healthy and whole. Yet if there's one thing that every Genoa City resident knows, it's that appearances can be deceiving. "The Ashley and Brad story is going to build to a new level of drama in January and February," Smith discloses. "It starts during the holdiays, and it's going to culminate in an explosive February story that will involve Victory and... Abby."
Katherine and Jill Face Off!
"The Kay and Jill story is going to ignite big-time in January," Smith promises. In fact, the writer suggests fans tune in on January 7 because "something major is going to happen! It's a don't-miss episode!" And that's only the beginning of this mother-and-daughter roller-coaster ride. Smith adds, "The story will build to a point where something else even more dramatic happens on January 19!"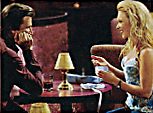 Bobby will remain in Britt's orbit.
Tragedy Ahead For Britt?
Brittany's show-biz ambitions may have terrible consequences. "We will build into a very, very interesting triangle with Brittany, Raul and Bobby," Smith teases, noting that the blonde bombshell's parents will be involved "in a tragic way."
Sharon's Terror
This New Year, Sharon may be wondering whether she slipped back in time. Yet it's not her ill-fated liaison with Diego or subsequent kiss with Victor that is dogging her conscience, but Cameron! "We're going to be palying a big story with Sharon and the character of Cameron," Smith offers, noting that the story will be front and center during the first two months. Hold on to your seat, says the scribe: "This is going to be a blockbuster!"
Dangerous Curves Ahead
Michael will continue to grapple with his own legal difficulties - as well a his fire-bug brother! Smith assures, "Kevin and Michael will be very much on the canvas." For his par, Kevin is desperate for some sort of ally, especially with everyone in town gunning for him. "Paul and J.T. will team up to try and get the goods on Kevin," Smith confides. Meanwhile, Michael's fiery friend, Phyllis, will shake things up. Says Smith: "Phyllis is going to do something wild and radical in early January that will set bot the Newman group and the Jabot group on its ears! Stay tuned!"