---
Y&R: Sharon's Scandalous Secret
by Ton Stacy (Cover Story)
This week on YOUNG AND RESTLESS, a desperate Sharon attempts to cover her tracks when her past comes back to haunt her - in the form of wealthy, charismatic one-night stand Cameron.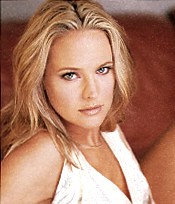 "We have a new story with Sharon [Sharon Case, r.] that we're kicking off," previews Co-Executive Producer/Co-Head Writer Jack Smith. "That is going to be a sotry that builds quickly into a lot of drama."
"Sharon met Cameron in Denver when she was gone from Genoa City," explains Linden Ashby (Cameron). "They're kindred spirits, and during that time, they hooked up."
As becomes apparent in Sharon's flashbacks of the tryst, though, Cameron was abusive. "It's really disturbing," Ashby continues, "I have very clear boundaries on what is and is not acceptable behavior and there is no excuse for hitting a woman. It's unforgivable."
Now, Mrs. Newman is scrambling to keep the news from coming out an ruining her marriage. Sharon is stunned to see Cameorn in Nicholas's office, prompting her to confide in an unlikely source - Michael. Though the attorney suggests pressing charges, Sharon wants the matter to remain private.
Ashby won't say how long he's around for, but does indicate, "It's not a full-time gig. It's an arc. I have no idea what they have in store for this guy. I think they dhave a broad-brush picture that can change quite a bit."
Though Ashby is the real-life husband of Susan Walters (Diane), don't expect the marrieds to be sharing scenes. "Diane wouldn't put up with the kind of behavior that Cameron indulges in," Ashby chuckles, &She'd probably set him on fire while he slept. She's proven to be handy with a bottle of lighter fluid.
---
Disappearing Act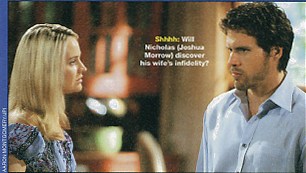 Shhhh: Will Nicholas (Joshua Morrow) discover his wife's infidelity?
Earlier this year, Sharon and Nick were on the verge of divorce, and after an illicit kiss with father-in-law Victor (which Nick saw through a window), the young Mrs. Newman left her flailing family behind and took off for parts unknown. In real-life, portrayer Sharon Case was in the middle of a tense contract renegotiation that kept her off the screen for three months. At the time, Case, who joined Y&R in 1994, insisted that the desire for "outs" was not a stumbling block during the process. "The outs are definitely something we talked about, but they weren't the only point," Case told Digest. "I would not have been negotiating if I did not want to come back. I've alwasy had a great story to play. I love the way they write Sharon. It was just a matter of hammering out the deal points."
And true to his word, Smith teased back in April that Sharon's absence would eventually be addressed. "That's going to be a story point, but we're not going to play it for a while," stated the exec at the time. "Where Sharon has been is something she wants to keep a secret."
Well, no wonder!