---
Hobby World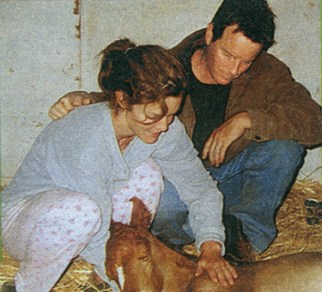 You might think that with memorizing dozens of pages of script, dealing with family matters and attending charity luncheons, award functions, celebrity softball games and other such flesh-pressing events, soap stars wouldn't have the time for frivolous extracurricular activities. Wrong! From horsebck riding to golfing to eclectic hands-on fun like furniture making, here are 10 actors and actresses who would no doubt agree: Everybody has to have a hobby!
---
Susan Walters
Diane, YOUNG AND RESTLESS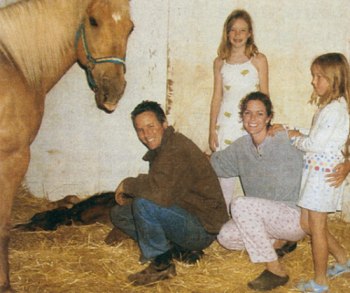 "This photo was taken at 2 a.m.," raves Walters, with husband Linden Ashby and daughters Grace (l.) and Savannah. "Our kids were leaving for sleepaway camp the next morning, so we had a long talk with our horse and said she had to have the baby that night. And she did."
High in the Saddle: Equestrian endeavors
Favorite Horse, Of Course: The newest family addition, Pearl
The Highest Hurdle "I'd love to go to the Kentucky Derby, but that's a whole different vibe. I'm learning about horseback riding so I'm safe, not so I can compete."
On the Side
When did your love of horses rear its head? "I grew up loving horses. My bike was named Sheba, which was the name of my aunt's horse. Then I did HORSE SENSE for Disney three years ago, and I got to ride during that, so I've only been riding about a year-and-a-half. But it's a total family affair. My husband (Linden Ashby, ex-Coop, MELROSE PLACE; ex-Curtis, LOVING) is an excellent rider and an accomplished horseman."
What's the best part of riding? "There's something about the speed and the control, and yet the lack of control at the same time. It's all about the trust that you have to have in the animal. Goldie takes total care of me, and she goes really fast."

"Mom" Goldie and the newest addition to the Walters/Ashby household, "baby" Pearl.
Did you expect to be raising horses as well as riding them? "It was a complete surprise that I bought a pregnant mare. Goldie came into the family last August, and apparently she had gotten pregnant in May, unbeknownst to us and the person who sold her to us. She was a month and a week late, and I'd driven everybody on the set crazy about it. Then, I went out at 1 in the morning, and there's this little baby! We missed the birth, but I went outside right after she came out. She was wet and got up and nursed. She's doing great."
What's your proudest equestiran accomplishment? "This birth. I'm a novice horse person, but I had taken such good care of Goldie, and the bagy is healthy. Now, the baby is coming up to us and is all over us. We're so proud of our Pearl."