---
They Know Better Than You
Some of you may recently have seen two quirky little shows named The War Next Door and Manhattan, AZ. Paul Spragg met the people who brought them to life.
Over the last couple of months, the USA Network has been premiering two brand new quirky half-hour comedy shows. Sadly, after too short a run, both were recently canceled and pulled from the schedules, but there are still episodes to be shown and you the reader has a right to know what you may have been missing. The first of these shows is The War Next Door, starring Linden Ashby (Johnny Cage in the Mortal Kombat movie and star of the short-lived comic spy drama Spy Game) as Kennedy Smith, a man who decides to give up his secret agent lifestyle and settle down in the suburbs with his wife and family.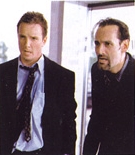 Unwilling to let him get away that easily, his arch-nemesis, evil genius Alan Kriegman, moves in next door with his partner, Barbara Bush, to resume what he calls 'their eternal dance of death'. And eternal it is, as each week one of these fighters dies an unpleasant death.
Executive producer Chris Viscardi believes that, "It's part of the fun of the show that we know one of them is going to buy it in some kind of comical way at the end of each episode. So, if we have a really bad week, we just know that that person is going to get it the week after that. It's all built into the show. It all comes out of the character conflict that's happening in that episode.
"It's really liberating to think of great ways that one of the characters is going to get 'offed' at the end of each show. And it's also nice to know that, when the next episode begins, the death and the previous episode has nothing to do with that episode whatsoever. You just kind of start all over again from scratch and that episode takes off again."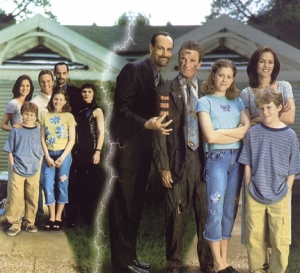 Linden Ashby is a familiar face to many, but what most people won't realize is that his co-star, Susan Walters, is actually Ashby's wife. Viscardi explains that it worked in the show's favor. "You know, we didn't set up for that at all," he offers. "Actually David [Eick, network exec] is the one that talked to us about Linden, and we saw him and spoke to him and met with him and just thought that he would be perfect for the role. At the same time, his wife was coming in to audition for the part, completely separate of the fact of whether or not her husband got it or not. And she was actually our favorite of the women. So it wasn't until the eleventh hour that we knew that they were actually married.
"And we were a little bit nervous about it at first, because when you're shooting there are a million and one things that can go wrong, and the last thing you want to have happen is some conflict between the actors. So we didn't want to be on the set and this real-life couple is having some issue off-screen that would affect what's on screen. But it has not happened at all. It's been amazing. They're a great couple. If anything, we were able to really help fine-tune the characters by just looking at the way that they act as real people with one another. And it makes a relationship on screen even more real and hopefully, funnier."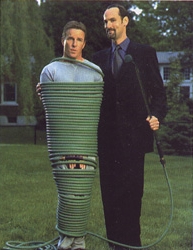 But the real star of the show has to be Damian Young, who portrays Kreigman a psychopathic evil genius with the papers to prove it. As a relative unknown, Young is a real find, but where did he come from? "He's a New York actor - don a lot of independent films, a lot of stage work. My partner and I have worked with him a lot in the past. He was one of the frequent actors in a series we did for Nickelodeon a few years back, The Adventures of Pete and Pete. He played a bus driver and we brought him in. He was a lovelorn, over-wrought, really emotional bus driver that was always getting the kids in trouble and we just loved him the first time he came on the set. He became a real popular character on the show so we kept writing him back in.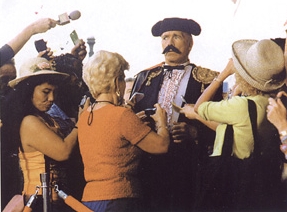 "We became friends over the years and we did Snow Day. We put him in it. When we were talking to USA about making this series, he was the guy that we had in mind from the very beginning.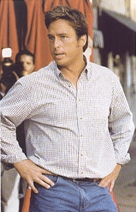 "So it was the first time in our lives ever that we actually wrote a character in a script and we knew the guy that we could get for it. And it was just great. We were writing it knowing that Damian would make the stuff sound really great. He's a great actor. I hop the show really does something for him."
What keeps things fresh is that each week, it's not always a case of good guy/bad guy. When Kreigman gets settled in a job that he enjoys - admittedly because he gets to make trouble for people as a mailman - it's Kennedy whose suspicious mind leads to the inevitable fighting. "We play with his range a little bit," comments Viscardi on Young's portrayal. "Sometimes he gets big. Sometimes he underplays. He's done a lot of theater work and his work is really varied, so he has a huge spectrum to pull from and he can give us whatever we want - the physical as well as some of the subtle emotional stuff."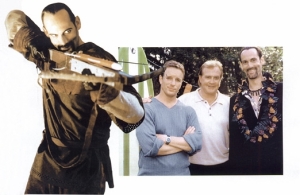 The other show in the new comedy firmament is Manhattan, AZ, a Naked Gun-esque trip to the desert town of the title where the new sheriff discovers a collection of extremely odd residents. This series was created by David Richardson. And before you ask, no, not the esteemed former editor of this publication gone on to bigger and better things. A native of Phoenix, he admits that there's a reason for the setting of the show.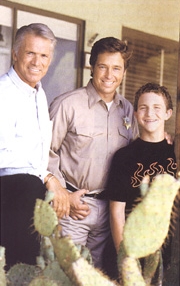 "I was a UPS driver out of college and I used to drive to these towns outside of Phoenix and there was no rhyme or reason for those towns to be there. There were no roads. There were no rivers. There were just people who didn't like people. So this has been brewing a long, long time." There have been comparisons made between Manhattan, AZ and Northern Exposure. Richardson addresses them thus: "I think we're a little bit more absurd and we go for the harder laugh. Northern Exposure was a terrific show."
"Of course, we all loved that show," agrees one of the show's stars, Chad Everett. I'd say, basically, Manhattan AZ is a place where we are constantly politically incorrect and socially inappropriate. The TV Guide lady said, 'You're so twisted.' I said, 'Thank you'. We are a little bit twisted, but we have a great time."
Everett plays the Mayor, Jake Manhattan, a self-serving, vain, egotistical man who used to be a movie star. Is he anything like his alter ego? "Well, I'm in no way near as narcissistic as he is," he responds, staring at his reflection in a silver jug nearby, "but I try to keep my head on straight and remember the 40 years in the business that I have entertained you all. I I've tried to do it in a way - oh, excuse me," he says, ending his personal grooming.
Manhattan, AZ also features Everett butt naked. Asked about nude scenes, Everett admits, "I've never done one. I'm 63 years old. They couldn't have done it to me when I was 30. They had to wait until I was 63." So was he nervous about it? "I was petrified, man. I lost seven pounds, I was so nervous - not by dieting, just lost it off of nerves. And I'll tell you one thing. My crew - our crew - we've got the greatest damn crew in the world. I had nothing on that stage but a sock."
"Ironically, it was on his foot," chips in Richardson.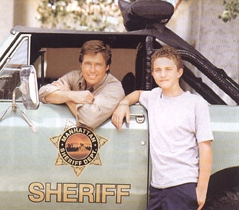 "I've got the best damn lines in the world," Everett continues." The writing just keeps getting better and better and better. I can tell you, I couldn't wait to do the pilot because it was the funniest thing I had ever read and then the next show was funnier and the next show was funnier and so it goes."
Brian McNamara, who plays Sheriff Henderson, a man who finds himself having to accept the weirdness of his new job, had similar feelings towards the show. "This role I truly looked at and loved," he begins, before saying, "but thought that I'm not the guy for this. Somebody else should really do this - a little more gruff. And when I was arriving, I saw Vincent Berry and his mom. Vincent and I have played father and son twice before in a TV movie with Valerie Bertinelli called The Case for Life When He Was Eight Ears Old. I'm actually paying child support because, in California, as an actor, you have to do that."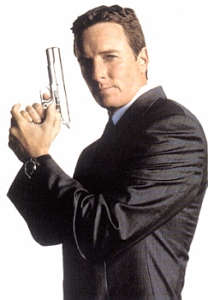 Berry himself is the second actor to play the sheriff's son, Atticus. The first is changed for the second partway through the pilot episode. "Yeah, that was written into the script," confirms Richardson. "It was, hopefully, a joke, you know, that he had neglected his son for six months while he went on his binge. You now, when people go through break-ups of relationships, there's a little bit of self-involvement and narcissism begins to happen. The idea was that everything looked different to him, including his son."
As Manhattan, AZ ends its brief life, Richardson seems proud of what he's achieved. "When we started Manhattan, AZ, we went out to the desert with eight scripts under our arms - eight out of the 12 ready to shoot. We've pretty much held to what our vision is going to be."