---
Winter Preview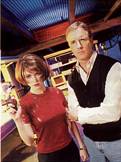 Stars:Allison Smith and Linden Ashby (right)
The concept: The Avengers in the new millennium
The premise: U.S. intelligence agencies have been downsized and some laid-off agents are now free agents, selling their knowledge to the highest bidder. A pair of spies - an old-timer and a young techno-wiz - is assigned to outwit the out-of-control operatives.
They say: "They're the last secret agents," says executive producer Sam Raimi. "It's a buddy show with a guy and a girl." Adds executive producer John McNamara: "We're trying to do something that hasn't been on network TV in a long time - an intelligent action show that's fun."
We say: No pilot was available, but the producers certainly have the background to create an appealing, action-packed series: Sam Raimi is executive producer of Hercules and Xena, and McNamara is a producer on Lois & Clark.