---
Editors' Choice
Digest Salutes The Best In Daytime
And the winner is...
A Not-So-Final Finale, MELROSE PLACE
There's an old show biz adage about leaving the audience wanting more. To that end, the writers of MELROSE PLACE proved that they know their stuff with the season finale.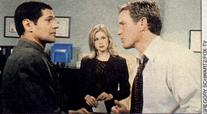 Michael (Thomas Calabro, l.) lights up any scene he's in. Also pictured: Kelly Rutherford as Megan and Linden Ashby as Coop
To pump some interest into the show - which has seen some ratings slippage - Fox decided to hold MP's last half-dozen episodes until summer. The finale that aired was actually two regular episodes put together. That said, the show lacked cliffhangers ith beloved characters hanging perilously from burning buildings; however, there was enough dash and spice to whet our appetites for those summer sizzlers.
While the residents of 4616 Melrose weren't in physcial danger, there was enough angst to bring Freud back from the dead. Most happily, Amanda has regained her bitchy bite. She vamped around, slept with Rory, a virtual stranger (though she did shed tears over her breakup with Kyle) and tossed trademark barbs. Catching Billy and Jennifer in a compromising position in Kyle's office, she sneered, "Bartender, when you're done servicing Mr. Campbell, Rory and I could use a few drinks." Meow. Welcome back, Ms. Woodward.
Her nastiness was obviously contagious. Former friends Jennifer and Sam exchanged catty comments as they fought over Billy, with Jennifer slapping Sam in the ladies' room. How un-ladylike! How much fun! And there was lots of high camp amid the high melodrama.

It's nice to know that Amanda's (Heather Locklear) still got it.
Thomas Calabro (Michael) is a riot any time he shares the screen with Lisa Rinna's Taylor (Since she's departing the series, do the writers know what they're losing with this pair?) And Michael and Peter's (Jack Wagner) scenes while on a camping trip (don't ask) - especially when they woke up together - should be put on MP's all-time best reel.
Let's not leave out Taylor finding out she was pregnant. As the plot unfolded, Taylor had to get a blood sample from Kyle to test her baby's paternity. "Unless you're a vampire," quizzed Michael, "just how are you going to do that?" Well, inventive Taylore kissed Kyle intentionally bit his lip and then dabbed his bleeding lip with a tissue. Mission accomplished.
While we're tossing kudos, Rob Estes (Kyle) continues to prove he isn't just a pretty face. The scenes where Kyle pretended to be in love with Taylor to get the goods on her were some of Estes's best on the show. We also have to salute Alyssa Milano (Jennifer) and Linden Ashby (Coop), who won't be back after the summer. Their work in the finale makes us miss them already.
Oh sure, we could have done without the throwback scenes of male characters (namely Billy and Coop) punching out other men in order to defend their womenfolk's honor. Especially since they were defending Sam (an adulterer) and Megan (a former hooker). And what was up with Jeff, the baseball player, proposing to the married Sam after having sex a couple of times? (Talk about coming out of left field.) But those are minor quibbles.
The writers know how to leave the audience wanting more. And this finale proved that there's still a lot of life left in the PLACE.