---
Loving's Linden Ashby and Susan Walters:
There Goes the Neighborhood!
by Tonya Lensch
Suburban life can be just as dangerous as the CIA - at least in the new USA original comedy series The War Next Door, starring Linden Ashby and Susan Walters, real-life marrieds who fell in love while co-starring on Loving (he played Curtis Alden; she was Lorna Forbes).
In The War Next Door, Ashby plays recently retired undercover agent Kennedy Smith, who is sucked back into a life-and-death feud with a longtime rival, Kriegman, when he moves next door to Kennedy and his family.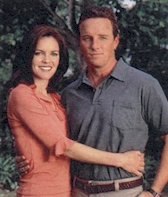 Walters and Ashby's marriage extends to the workplace when they team up to play a married couple and go to
War
.
Walters is Kennedy's unsuspecting wife, Lili. She was immediately attracted to the project because "Lili is basically me," she says with a laugh. "I thought it would be really fun to work with Linden, and it's not such a huge part that I wouldn't get to be around our kids (daughters Grace, 9, and Savannah, 7)." As for working together, Ashby jokes, "Aw, it's hell. It's hell on earth! No, we have a great time together. We laugh a lot and I enjoy her - as a person, as an actress." The couple also co-starred on Melrose Place, where he played Brett "Coop" Cooper and she was Christine Denton.
Ashby admits he lucked out in getting another great - and funny - co-star, Damian Young, as Kriegman. "My toughest job of the day is not to laugh. I have to try to keep a straight face," Ashby says of their scenes. He adds that in the Kennedy/Kriegman conflict, "I am the audience, in a weird sense. I'm looking at this nutcase who lives next door and just going, 'Jesus Christ.'"
Since Lili would be less than thrilled with Kennedy's ongoing fight with Kriegman, she doesn't take part in their comical exchanges - yet. "It's hard," Walters says. "I don't really get to share in a lot of that, because I'm the person who doesn't know, I know [Kriegman] as a neighbor, but not as who he really is."
Each episode is full of stunts that showcase Ashby's knowledge of martial arts. "Either [Kriegman] aggravates me to the point where I kill him at the end of the show, or he kills me, and we start fresh the next week," Ashby says in character. "We never explain it. We never mention it. It's a Groundhog Day sort of thing. It's a new day, with no memory of what happened."
The War Next Door airs Sundays on USA. Check local listing.