---
Watch Out For: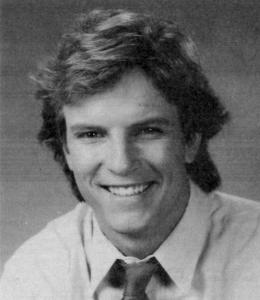 Linden Ashby (Curtis):
LOVING'S Passionate Geek?
by Lynn Davey
"A passionate geek." Those are Linden Ashby's words, and he's half right. A geek he is not (though his full name - Clarence Linden Garnet Ashby III - might fool you). Passion, however, is a driving force in his life. Ashby's passions these days include skiing, motorcycling, surfing and his LOVING co-star and brand new wife, Susan Walters (Lorna).
"I'm not talking about passion in the sack," Ashby explains. "I'm talking about grabbing life because I think that maybe there's reincarnation, maybe there's heaven, maybe there's God, I sure hope so. But maybe there's not and once you die, that's it...Thrills are an important part of life. They make you feel alive." This preppie-looking, Florida born-and-bred (he had to fight to lose his Southern accent) 25-year-old actor seems an unlikely candidate for the role of reckless cynic, and indeed, Jack Nicholson he is not. But he's also not the uptight, self-absorbed young man one might expect. He answers questions completely and with the self-deprecating sense of humor of someone who takes his soap opera "star-dom" with several grains of salt.
What Linden does take seriously is his wife Susan. "We hit off right away," he says happily. "I see her at the show and I see her at home. We spend 24 hours a day together, all the time. Sure we can get on each other's nerves now and then but I feel lucky to work on the show with her because then I can be around her more."
The couple first met a few years ago when Linden had a minor role on the soap, back in the days when LOVING centered around a college campus. He played a louse who hosted a sex party in a fraternity house. "I guess they threw me in jail and I never got out," Ashby shrugs off his short-term role. It wasn't until he took over the part of Curtis, Lorna's cousin, from Chris Marcatel that Linden and Susan clicked. He was seeing someone else at first, but the relationship fizzled and he began dating Susan. "It was love at second sight," he recalls. In the beginning the actors were very discreet about their relationship. Did the LOVING set suspect anything? "Hey, we're actors," Ashby laughs. Once the cat was out of the bag, though, Linden says the cast was happy for the couple, who were married on April 19.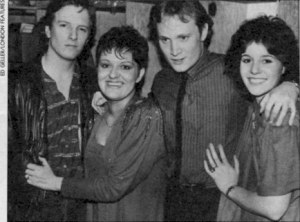 Linden was one of the soap stars roasted at New York's club, One Night Only. Surrounding comedienne Pudgy are LOVING castmates (l-r) Linden, John Johnston (Steve) and Lauren-Marie Taylor (Stacey).
When asked which LOVING actors he particularly enjoys working with, Linden ticks off his Alden "family": Wesley Addy (Cabot, Curtis's grandfather), Christine Tudor (his mother, Gwyneth) and his onscreen wife Roya Megnot (Ava). "I work with professionals and that's great," Linden says appreciatively. One indication of the hard-working family-like atmosphere on the set is Linden's contention that LOVING is a drug-free cast, which is, he suggests, "a rarity these days. We're like Puritans or something."
What's not so wholesome is Linden's interpretation of Curtis. "There's something very sick going on there," the actor says with a grin. "He's always getting Jack's used good. I think what Curtis wants is his mama, and Ava's about as close as he can get." Linden claims that Curtis truly loves his scheming, gold-digging wife, a belief he says is shared by Roya Megnot. In fact, both Roya and Linden object to a fantasy sequence in which Ava dreamed of marrying Jack instead of Curtis. "She thinks Ava really loves Curtis, and I think they love each other," he asserts. "(Ava's) got spirit and she's spunky and she's smart."
Linden wanted to pursue an acting career long before he came to New York, but in high school, at least, he kept his ambitions under wraps. Anxious to avoid the label "nerd" often pinned on aspiring actors, he concentrated instead on water skiing and surfing. It wasn't until college in Colorado that the actor began to study in earnest. A year before graduation, he dropped out of school ("my parents will never forgive me') and joined the prestigious Neighborhood Playhouse. Theater work in New York followed, as did assorted commercials.
Linden sees no conflicts between his work on commercials and the soap, and his desire for more serious assignments someday. "You're going to do a shampoo commercial, or do you want a bartending job?" he points out. "I'd rather do the commercial." To his detractors he replies, "I have a hard time with people who say, 'It's not a pure art form, man, you're an actor.' I mean, in the 1950's you had fifty Broadway plays a year opening. Now you have two. And they stink." Linden's advice to actors: "Do anything you can, and do it with as much integrity as possible."
The monumental egos so common in the entertainment business also irritate Linden. "I think the prevalent attitude is, 'Let's make money,' and I think a lot of actors are mixed up in that they think that it's me, me, me. But you can't do it alone. You can't act in a vacuum." One job that soured Linden on the aspect of acting was his first job out of school, in an off-off-Broadway play. The writer was also the producer and the star, which created difficult working conditions. Nevertheless, Linden got positive press out of the experience and appeared poised for stardom. Then, nothing. He managed to make a living, but admits to frequent doubts that a career in acting could support him. What if things hadn't panned out? "I probably figured I'd get an "American Express card, a Visa card, a MasterCard and a checkbook, and get the cash advances and go to Peru, just run away from the credit companies... I guess we shouldn't print that," he adds wryly. "It's still a viable alternative."