---
Where Are They Now?
Catch Up With Three Former Soap Stars
Linden Ashby (ex-Coop, MELROSE PLACE; ex-Curtis, LOVING)
Not too many actors would feel "fantastic" about losing a job. But then again, Linden Ashby, who played Dr. Brett "Coop" Cooper on MELROSE PLACE last season, isn't like most actors.
When the call came that he was being let go, Ashby says he felt sort of relieved. "Well, not at first," he admits. "I was surprised, but I got over it real fast. I'm totally over it. Ultimately, I knew it was for the best. They didn't know what to do with Coop. He was good; he was bad; he was manipulative; he was the victim. Coop didn't really ever fit in. He was all over the place. Of the 32 or so shows I did, I felt that maybe five made sense to me. The whole thing spiraled into absurdity. They finally got me with Megan and that was a lot of fun. But by the time thewriters got a real handle on who Coop was, the decision was already made."
Ashby had no trouble going home - his real-life wife is Susan Walters (ex-Lorna, LOVING), who also appeared on MP last season (as Christine). "I watched the show a lot, but this season - and not because we're not on I can't really get into it," he says. "Killing Matt? What was that about? I think the show is lame."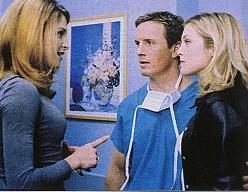 On MP, Lexie (Jamie Luner, l.) made life miserable for Coop and Megan (Kelly Rutherford).
Never one to mince words ("I've always been this way"), Ashby doesn't mind being candid. And lest you think he is bitter about his MP experience, think again."I made over a million dollars last year on that show," he laughs, "and hey that's a lot of f---ing money. I'd still come back and tie up the character if they asked me. There are a lot of good people there. I have no complaints. That show allowed me to be in a position to take the jobs I want."
That includes roles in two TV movies. "I did a small part in one for CBS called BEAUTY with Janine Turner [ex-Laura, GENERAL HOSPITAL]. And, like I have to say this, but she is the beauty, not me," he chuckles. "It's a modern-day Beauty And The Beast story. I play her boyfriend, and she finds true love with this other guy, a beast.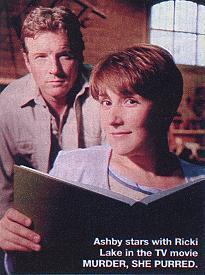 Ashby stars with Ricki Lake in the TV movie MURDER, SHE PURRED.
"And I just did a movie for ABC. It's about a cat who solves mysteries. I think they might be calling it MURDER, SHE PURRED. A Sunday-night thing for Disney. There are talking cats and dogs. It was a really fun script, and I figured my kids would love it. Plus, I got to work with Ricki Lake and that was a real hoot."
Next on the agenda? Ashby and Walters (who just starred in the UPN TV movie, I MARRIED A MONSTER) are talking to writers about developing a project for them to star in. Even when they were both on LOVING (where they met and played cousins), they didn't work much as a tandem. But right now, Ashby is enjoying a mint-vacation. "Susan and I worked all summer." he explains. "So now I've been hanging with the kids, doing a lot of stuff around the house. I love my life. I have a beautiful wife, two beautiful kids and I get work in a very tough business."
Of course, Ashby also has time to play. "I've been doing some surfing," he smiles, "and this afternoon, I feel like flying, and I'm hungry, so I'm going to fly my plane to Santa Barbara for a hamburger." Fly a few hundred miles for a burger? Most people would drive a few blocks to McDonald's. But then again. Linden Ashby isn't like most people.