---
PRIMETIME FOCUS
The Next Action HERO
BY DAMON ROMINE
Linden Ashby wants to leave MELROSE PLACE with a bang!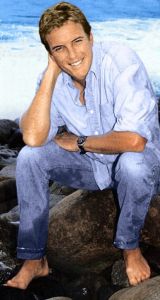 "I think they should bring my wife back as the real Christine to throw a monkey wrench in Kyle and Amanda's relationship."
Imagine that during their next confrontation, Linden Ashby's MELROSE PLACE character Coop flattens rival Michael Mancini with a swift kick to the gut.
Okay, so it's a move we're not likely to see. But it's certainly something Ashby is capable of.
"Every time I have a fight scene with Michael, I have to remind myself that Dr. Cooper doesn't know martial arts," says the actor, who definitely does - he's studied a mix of many styles for over two decades. "But I'm really thinking, 'I'd never hold a guy like this. I'd choke him here, and I'd never leave myself open like that.'"
A Kick Out of Acting
Luckily, Ashby has had other acting roles that take advantage of the training he hasn't been able to display on MP.
His skills were showcased in the 1995 movie "Mortal Kombat" and in last year's short-lived ABC action series SPY GAME. He's also done a couple of straight-to-video fight flicks. Even so, he remains humble when asked if he's a good martial artist.
"I'm a good movie martial artist," he points out. "It's so much better when you know the person is going to hit you - and that they're being paid to let you hit them. It works better that way."
But some of the techniques he's learned in these choreographed fights have translated into his real life. "The great thing about doing movies is that I've worked with such great martial artists. I get to pick their brains about different styles: Chinese, Japanese, Korean. It's an education you can't buy."
Yet, it's an education he's had to try and forget ever since he landed his current role. Confrontations on MP, after all, are usually restricted to screaming matches, slap fights or the obligatory push into the apartment-complex pool. "It's such a fight-oriented show, but it's not a physical fight-oriented show," Ashby says.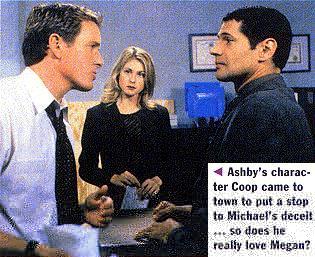 Ashby's character Coop came to town to put a stop to Michael's deceit ... so does he really love Megan?
Husband And Wife: 24 Hours A Day
One MP character mixing it up recently was played by Ashby's real-life wife Susan Walters, who in February portrayed a woman posing as Kyle's ex, Christine. Ashby and Walter met and fell in love when they starred as Curtis and Lorna on LOVING in the mid-1980s. They've now been married a dozen years and have two daughters, Grace, 6, and Savannah, 5. Ashby hopes they'll cross paths professionally again. "I'd love to do a project with her."
While he waits for that to happen, he's got plenty to keep him busy. With his yearlong gig on MP over at the end of this season, Ashby is gearing up for new assignments - action-packed or otherwise. He starred with Yasmine Bleeth in NBC's February TV movie "The Lake," which didn't have martial arts in it. But keep an eye out for the as-yet-unreleased "The Time Of Our Time," a "tiny little art movie" that Ashby made last May. In it, he doesn't do any fight scenes, but he does see some action: He plays a bullfighter.
---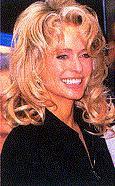 The Farrah Connection
In 1987, Linden Ashby worked with CHARLIE'S ANGELS star Farrah Fawcett in the miniseries POOR LITTLE RICH GIRL: THE BARABRA HUTTON STORY. She played the extravagent Woolworth's heiress; he played her son!
The relationship didn't continue off screen. "I don't keep in contact with her," admits Ashby. "I keep in contact with her the same way everyone else does: through the press and with wide-eyed amazement." Given Fawcett's recent mishaps, the actor concludes, "She was much better then than she seems now."