---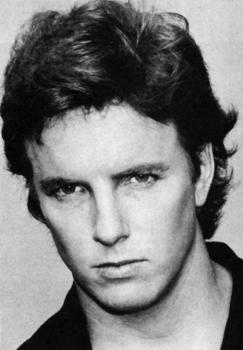 Linden not only made the role of Curtis his, but he married his leading lady.
Linden Ashby:
Loving his role as a working actor and newlywed!
It's always difficult for an actor to assume a role created by another actor. Yet, when Linden Ashby decided to go after the role of Curtis on Loving, not only did he get the role, make it his own and make people notice, he also managed to walk off with his leading lady and claim her as his bride.
"Ever since I was a little boy in Atlantic Beach, Florida, (near Jacksonville) I've wanted to be an actor. I started acting in high school in comedies and musicals. I once played the lead in Cabaret. I wanted to go to acting school so bad that I dropped out of Fort Lewis College, a wonderful college in Durango, Colorado, after 3 years. I was closer to Hollywood, but decided to go to New York to study at The Neighborhood Playhouse with Sanford Meisner for two years. I did a bunch of plays off-off Broadway, off-Broadway and in regional theatre and was a day player on Loving, Guiding Light and As The World Turns before auditioning for the role of Curtis on Loving."
Apparently, whatever Linden did to make Curtis his own was not only noticed by Loving fans and his peers who have often commented he makes unusual and difficult choices as an actor and pulls it off, but also his costar Susan Walters, who was playing Lorna at the time, was impressed.
"I guess because Lorna and Curtis have always been close it made Susan and I close. I had just broken up with my girlfriend and the last thing I was looking for was a serious relationship, but when something is that right, you know it's right. I always thought I'd never date someone I worked with, but it just happened. Susan and I dated for seven months before deciding to get married. Getting married has changed my life for the better ... for one thing, I don't get cold at night when it's cold, there's another person there. Now Susan, you know I'm only kidding ... there are so many other things I couldn't begin to list them here!"
Shortly after they began to be a serious romance, Susan decided to leave the show, after all, she'd been playing Lorna since Loving went on the air, and it was time for her to move on. Since she's been gone, Linden craves the chance to work with his beautiful bride again.
"We're looking for something we can work in together outside the soap world. We'd like to find something that would give us the freedom to try new things and not be confined to the soap opera formula."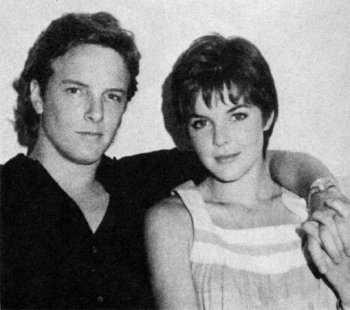 Linden
and bride
Susan Walters
look every bit the newlyweds at home.
One thing that didn't confine Linden to the soap opera formula was a recent production of The Hunchback Of Notre Dame at The Washington Square Church in Greenwich Village. In the show he got to play a swashbuckler and loved every minute of it. When asked what film he'd like to remake he readily answers, "I'd love to remake the Steve McQueen film, Baby, The Rain Must Fall or do a cop or western movie... a shoot em up, blast them film. Doing violent films isn't good because violence begets violence. Something like Rambo, were they are pretending it's for real, is pretty much the worst negative movie ever made. I have no problem with Clint Eastwood as Dirty Harry because he has a sense of humor about what he's doing. I admire him a lot. I also think Paul Newman is pretty terrific and a very good person!"
When not working or thinking about his acting future, Linden loves to surf in Montauk, off Long Island, skateboard, race dirt bikes or ride his motorcycle around New York City. Right now he's working on a script for a play and a movie called The Nature of the Beast and plans to get it produced soon.
You can write him c/o ABC-TV, 1330 Avenue Of the Americas, New York, New York 100019.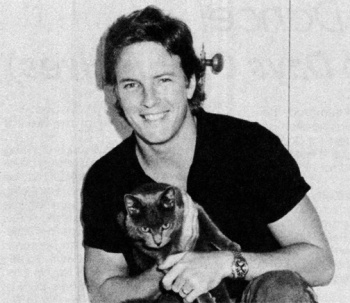 Their little child is their cat Doo-Doo who is very smart. In fact, this cat even fetches!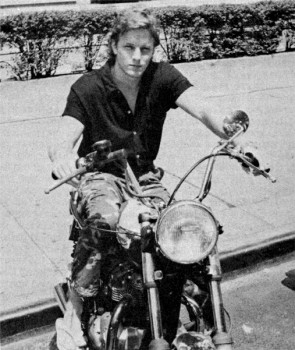 He loves tooling around town on his motorcycle ... sure beats the subway!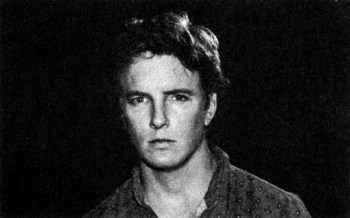 Looking every bit "the daytime
James Dean
" he's been dubbed. Linden is admired for making difficult choices in his acting and making them work.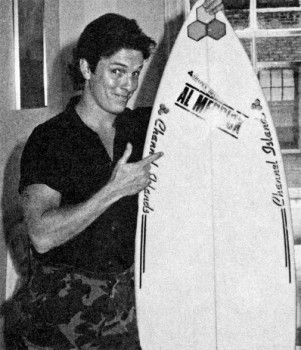 Linden's passion for surfing takes him to Long Island to catch the big wave when he has time off from Loving.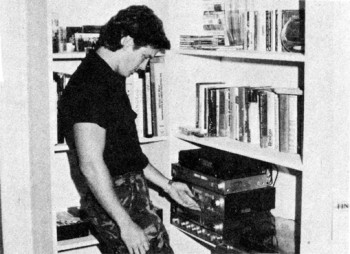 Quiet times are reserved for good music and a good book from
Chopin
to rock, from
Shakespeare
to
Mailer
.