---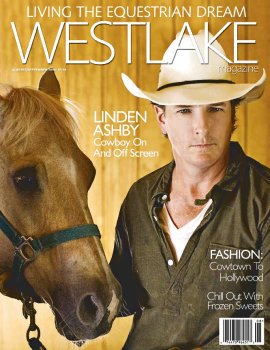 Linden Ashby
Cowboy, On-Screen and Off
By Rebecca Gray Grossman
Photography By Gerry Garcia
There is no question why a majority of the roles actor Linden Ashby lands are those of a handsome, rugged cowboy. To a large degree, this is a part of who he is off-screen. This persona is also reflected on our cover and fashion layout featured in this issue.
Florida born and raised leading man of TV and films, producer and entrepreneur, Linden Ashby, resides with his wife, actress Susan Walters, and their two teenage daughters, Grace and Savannah in the equestrian community of Hidden Hills, California. Their beautiful ranch-style property also houses a number of family critters. Ashby grins and says in his southern gentleman, (which he still maintains when not in character) "We have three horses, two dogs, a cat to eat the mice, six chickens and four fresh eggs".
After attending college in Durango, Colorado and moving to New York, the young actor got his first break playing the nefarious Curtis Alden on the ABC soap opera "Loving" in it's initial two seasons. This is where he met his stunning wife who also worked on the show. However, he truly came into his own career-wise after relocating to the West Coast and landing the role of the young and overzealous cowboy Morgan Earp, the younger brother of "Wyatt Earp" directed by Lawrence Kasdan and starring Kevin Costner.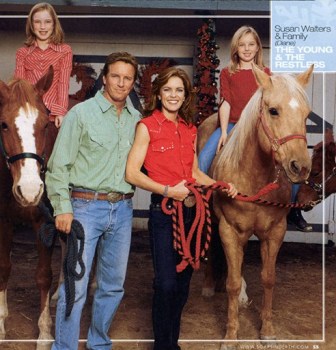 Later that same year, he played the adult Lance Reventlow, a race car driver and son of Barbara Hutton (Farrah Fawcett in the NBC miniseries "Poor Little Rich Girl". It took a few years before he began to play leading roles but eventually landed the lead in the feature film "Mortal Kombat" replacing Brandon Lee and portraying the martial arts movie star Johnny Cage. After working in a number of films and television shows, in 1997 Ashby found TV stardom when he joined the cast of "Melrose Place" in the series role of the underhanded Dr. Brett Cooper. He has been one of the fortunate actors in Hollywood who regularly works. Now at 44 one can easily see Ashby romancing ladies in a role similar to the handsome plumber in Desperate Housewives ... especially if it took place on the set of Bonanza. However, he is also notorious for nailing down his bad boy characters.
Currently, Ashby is filming on the setof "Resident Evil Extinction" in Mexico and, yes, playing another rugged cowboy named Chase. After filming the first "Resident Evil" he completed a Lifetime movie called "The Rival", and this fall he is due to start production on an independent film entitled "Woodland Drive" due out in 2007.
Ashby's other passions include playing soccer, flying his 6-seat "Piper Lance" plane and surfing, which he became hooked on at the age of nine while growing up in Atlantic Beach. When he is not jetting off somewhere to work ont he set of a film or television production, the cowboy / surfer-dude spends much of his free-time either jumping on the back of a horse, catching a wave in Malibu or with a hammer and nails in hand working on the backyard barn.
He and his wife, Susan, recently celebrated their twentieth anniversary of marriage, a record high for couples both in the entertainment business. They have always put their family and relationship first and foremost. The attractive duo still flirt with each other and it is obvious that they are still quite smitten with one another. In addition, they are both extremely involved with their two daughters. While the youngest daughter, Savannah, is now showing interest in the performing arts, Linden and his daughter Grace both compete in the community rodeos that Susan helps supervise. It is refreshing to see that there are still a few real hands-on cowboys left in the modern world.
---
And from the Fashion section of the magazine: