---
The Doctor Is In ... Cahoots
Linden Ashby is MP's newest no-goodnik
By Alan Carter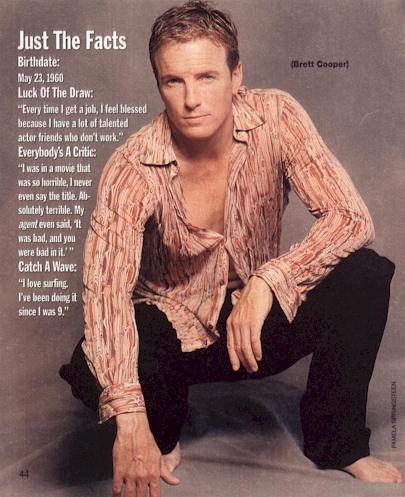 Sitting at lunch with Linden Ashby a guy who laughs readily (often about himself) and tells hilarious (if not raunchy) jokes - one finds it hard to believe he's the same guy who played Curtis Alden on LOVING.
No doubt that's because humor and vibrancy were traits Ashby rarely got to display as that lightweight. Ditto backbone. And that's especially ironic, considering the actor has definitely earned his toughguy stripes after studying martial arts for two decades.
With any luck, Ashby will use some of his smooth moves this fall on MELROSE PLACE as Dr. Brett "Coop" Cooper. Those skills came in handy for his roles in Mortal Kombat (he kicks butt as a martial artist), last year's SPY GAME (he kicks butt as a secret agent) and the upcoming The Time of Her Time (he kicks bull as a matador). Bottom line: Ashby is no wuss.
That said, Ashby is quick to downplay his macho-manliness. "I never got into fights or confrontations in real life," he explains. "Unless my wife or kids are threatened, there is nothing I can't walk away from."
From the sound of what the MP powers that-be have planned for him, Ashby won't be walking away from the spotlight much either. Coop will be in the thick of things, mixing it up in the front-burner storyline involving popular players Thomas Calabro (Michael), Jack Wagner (Peter) and Kelly Rutherford (Megan).
Ironically, when it was announced that Ashby was joining MP (actually rejoining; more on that in a minute), it was widely assumed - and reported - that he was coming to the show as a Mr. Nice Guy. A victim. Wrong. "As it turns out," smiles Ashby, "Coop is coming to L.A. to ... well, I don't know how much I'm allowed to say. So let me be vague. His ex-wife [played by Jamie Luner, ex-Peyton, SAVANNAH] is coming to town because she thinks he is hiding money from her. And he was involved with Kimberly back in Ohio." Uh-oh. "I'm going to make a lot of people miserable. Coop isn't going to exactly be the nicest guy. Victim? No. More like victimizer."
Then again, this is MP where only the strong - and mean - survive. And Ashby knows from playing nasty. He's been there, done that plenty of times, including a short stint on MP. Devotees with long memories will recall that during the first season he played Jo's abusive ex-husband in a handful of episodes. In other words, slipping into slimeball mode is all in a day's work. "I love being evil," he declares. "It's easier and ultimately more fun. Try being nice all the time, or playing yourself. That's hard."
When you learn a little bit about the actor's younger years, you get a sense of what he's talking about. Ashby grew up in Atlantic Beach, FL, where his dad taught him a good work ethic. "He would make me work these really hard and tough jobs. Hanging drywall, sheetrock, working in shipyards, digging ditches for a cable company. He wanted me to see how real people worked. That's why I love hoity-toity actors when they complain about their work conditions. Try working outdoors and lifting heavy things. That's real work - and it sucks."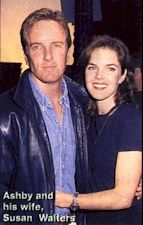 Ashby and his wife, Susan Walters.
So does unemployment. And Ashby didn't work much after some bad-boy behavior got him booted from LOVING. (See sidebar.) When he did work, he took many jobs just to bring home his share of the bacon. As things turned out, his wife, Susan Walters, whom he met at LOVING (she played Curtis's cousin, Lorna), was much more successful. She nabbed series after series and notable role after notable role - including the woman Jerry Seinfeld called "Mulva" on an infamous episode of SEINFELD.
"Susan was bringing in all the money," Ashby says matter-of-factly. "There were some terrible years there for me. I was very depressed. And one day I just made this decision: No more lousy roles. I'm going to hold out for things I want to do. It can't be worse than what I'm doing. It's funny, as soon as I made that decision, great projects started coming my way, and it's been comfortable ever since."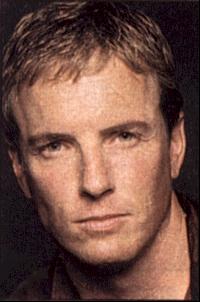 Those "great projects" included his co-starring role opposite Luke Perry in 8 Seconds, playing Kevin Costner's brother in Wyatt Earp, and starring as Johnny Cage in the cult-favorite feature Mortal Kombat. Ashby quips, "[Johnny Cage] has made me a hero to every 11-year-old boy. They just come up and stare at me when we go out."
By "we," he means Susan and their daughters, Grace, 6, and Savannah, 4 1/2. These days, with his hectic schedule, they're spending most of their time staying in. Videos have become the big thing in their household. "I can't tell you how many times I've seen The Land Before Time," he laughs. "And Beauty and the Beast, Hercules and Willy Wonka and the Chocolate Factory, which I loved. That's a classic and will always be a classic."
Then again, Ashby does have loftier - literally - diversions. A licensed pilot with his own plane, the actor takes to the sky when he needs to get away from it all or clear his head. Says Ashby, "I love that in L.A., you can surf in the morning, hop on a plane and fly to Big Bear and be skiing by the afternoon."
But why even think about going downhill? These days, things are only looking up for Ashby.
Hating LOVING
Many actors recall their first daytime gig with great fondness, but not Linden Ashby. Not about LOVING - except for the fact that he met Susan Walters, his wife of 11 years, and some good friends there. With gritted teeth, Ashby candidly recalls the role where he first got his feet wet.
"It wasn't fun. Maybe it's because I had a s---ty attitude at the time, and I brought a lot of it on myself. But I really hated it. I was an angry young man and I fought against the genre. I remember one time when I was in the hallway with [the producer]; I really hated him. He would rant and rave at all of us. He would scream at people until they'd cry. I'm standing there just daring him to hit me. I wanted to take the guy's head off. I eventually got fired because I had a bad attitude. It took me a long time to get over being fired. The upside? It taught me a lot and made me count my blessings. They say that what doesn't kill you makes you stronger. LOVING made me very tough."