---
Flying the Coop
Newest Melrose MK Linden Ashby is flying high - onscreen and off!
By Jeffrey Epstein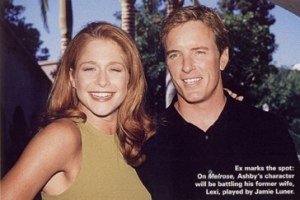 Ex marks the spot: On
Melrose
, Ashby's character will be battling his former wife, Lexi, played by Jamie Luner.
There's a new doctor joining the staff at Wilshire Memorial, and revenge is on his list of prescriptions. This fall, Linden Ashby joins the cast of Melrose Place as Dr. Brett "Coop" Cooper, the Cleveland doctor who treated Kimberly Shaw after her accident.
"I go off to L.A. to settle some scores hints Ashby, whose character will be battling ex-wife Lexi Sterling (Jamie Luner).
Melrose marks the second time Ashby has worked with producer Aaron Spelling. The actor did the pilot for a never-aired show called Green Dolphin Street. But when Melrose execs called to offer him the part, rather than jump on the first plane back from Costa Rica, where he was vacationing, Ashby decided to wait until he got home to follow up - a move which proved wiser than he could have known. Because of his absence, his agents were able to arrange a more lucrative contract. "It was the best negotiating I've ever done in my life," he laughs.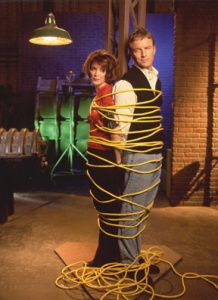 Ashby got all tied up with Allison Smith on the short-lived
Spy Game
.
Ashby, who is a familiar face to TV audiences, is equally familiar with negotiating. Last season, he appeared in the short-lived ABC primetime series Spy Game. Going from that action show to the more low-key Melrose has been a welcome change. "With Spy Game, I didn't have any downtime," he explains. "With Melrose, I do. It's such an ensemble cast that you get quite a bit of down time."
Ashby learned the value of down time when he played Curtis Alden on Loving. "Doing a soap is just grueling," he recalls. "It's a 24-hour-a-day job. You do it all day, you come home, you learn the show for the next day, you go to work, you do it again, over and over. On the weekends, you've got the scripts for the next week. Talk about no down time," he adds. "Those guys work harder than anybody else."
But Loving was a valuable experience in more ways than one. Not only did it help Ashby's skills as an actor, it's also where he met his wife, Susan Walters (ex-Lorna). The two actually met when Linden did a bit part before he joined the cast as a regular. At the time, however, both actors were going out with other people. "Then I got with the show, and I broke up with this other girl," he reveals. "I asked Susan out, and we went out for about three months. I asked her to marry me, and we got married less than three months later."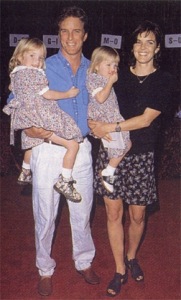 Married for over 11 years, the couple have two lovely daughters, Grace, 6, and Savannah, 4. "I see people and they go, 'Are you still married?' and I go, 'Yeah.' And they go, 'To the same person?'" laughs Ashby, admitting that the pair seem to have broken some unwritten Hollywood rule that couples must get divorced.
Raised in Atlantic Beach, Florida, Ashby was the youngest of three and the only boy. "I was a rotten kid," he remembers. "I always got into trouble about something or other."
He attended Fort Lewis college in Durango, Colorado, then went to New York and studied acting with Sanford Meisner at the Neighborhood Theater. He says he pretty much fell into performing after deciding he wasn't suited to do anything but act. "God help me if I had to hold down a real job," he smiles.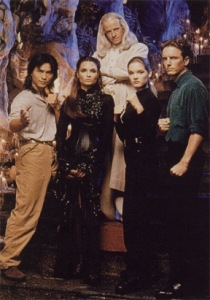 Post-Loving, Ashby made a name for himself on the big screen in such movies as Wyatt Earp and 8 Seconds. He played Johnny Cage, the leading role, in the marital arts/action flick Mortal Kombat - utilizing all his physical prowess in the process. He'll soon appear in the Norman Mailer-penned independent movie The Time of Her Time, about a man who goes to Mexico to become a matador. "The he winds up in New York City, 1959, teaching bullfighting in a loft in Greenwich Village and pretty much sleeping his way through the Village," Ashby reveals. "It was an incredibly courageous book when Mailer wrote it. And he was very involved in the script."
When not acting, Ashby hones his other skill - he's an accomplished pilot. "I got to the point about six years ago where I was so afraid to get on an airplane that I couldn't do it anymore," he confesses, "I was terrified, so Susan got me flying lessons."
And he's been flying high ever since.