---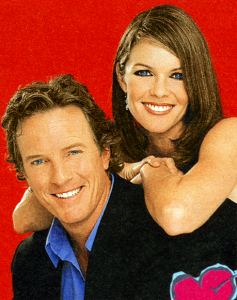 Sweet Talk
Her character is a steely vixen, but the actress's co-star hubby reveals that she's a "puddle of mush" in private. Nothing says lovin' like raw fish for one couple, who recently started dating. And then there's the newlywed who admits he might ahve been something of a mall stalker if he'd first spotted his wife at the food court. Find out more about the romantic lives of adorable, real-life duos who generously opened up to Digest about what makes them go all warm and fuzzy.
---
Young And Restless
Hearts Afire:
Susan Walters (Diane; Meg, POINT PLEASANT) and Linden Ashby (ex-Cameron)
Cupid's Arrow:
The couple met on the set of LOVING in 1985, where they played cousins Lorna and Curtis. They married on April 19, 1986, and have two daughters, Grace 13 and Savannah, 12.
---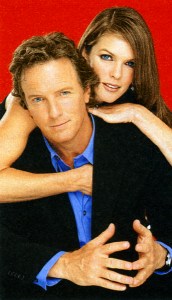 Digest: Do you have and Valentine's Day traditions?
Ashby: She dips me in chocolate [laughs]. Actually, I give Susan a dozen red roses. I give Grace a dozen yellow roses and I give Savannah a dozen pink roses.
Digest: What's the most romantic gift you've received from your mate?
Walters: We were engaged at the time and he had an old Triumph motorcyle that he rode around in New York City, and he bought me my own helmet. It was like, that sealed the deal. I had my own helmet, not one that some other chick might have had on [laughs]. That was so romantic.
Digest: Any gifts that didn't go over well?
Walters: I got Linden a T-shirt at Target that says "Heartthrob" on it. That was funny.
Walters: One year, Susan gave me a painting that she was so proud of, and it's the creepiest painting I've ever seen in my life. It's this naked woman holding this baby and there's this half-man standing there, and a dog floating by a kid with a pointed wizard hat on. But, the artist is a great artist and the canvas has appreciated tremendously, so it can't be all bad, right [laughs]?
Digest: Do you have a favorite romantic movie?
Ashby: There are a few; The Way We Were...
Walters: The first time I ever felt lust was watching Robert Redford in The Way We Were. I'm so pathetic [laughs].
Ashby: And Platoon. I put a flak jacket on, dress her up in black pajamas with a little conical hat on and we chase each other around the bedroom [laughs].
Digest: What's your favorite aphrodisiac?
Walters: A margarita [laughs]?
Ashby: "Yes" is an aphrodisiac for me.