---
Who's Fired & Hired & Who Quit
Your exclusive report on show-shaking cast changes!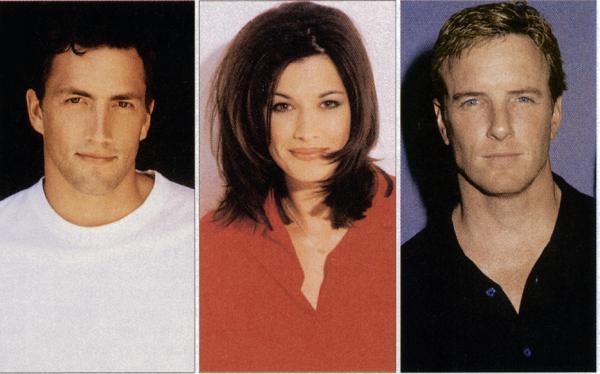 Heather Locklear may have signed on for another year, but MP actors are fleeing left and right. The latest to go are Andrew Shue, Brooke Langton and Linden Ashby.
Melrose Mass Exodus!
Three more actors hit the road.
First, the good news, FOX recently announced that it has renewed MELROSE PLACE for a seventh season.
Now for the bad news. In addition to the previously reported upcoming departures of Lisa Rinna and Alyssa Milano (Taylor and Jennifer), comes the shocking revelation that three more cast members - Andrew Shue, Brooke Lanton and Linden Ashby (Billy, Samantha and Coop) will not return to the primetime soap.
Shue has starred on the FOX drama since it debuted in 1992. His departure leaves Thomas Calabro (Michael) as the only remaining original cas member. Ashby joined the show this season as Kimberly's former doctor seeking revenge on Michael. Langton arrived in the courtyard toward the end of the 1996 season as a down-on-her-luck artist who worked in Jane Mancini's boutique.
Executives at the Spelling-produced show have said that they want to concentrate on the show's main characters - particularly Heather Locklear's Amanda - and therefore do not plan to add new cast members. Rinna is leaving to be a full-time mom after she gives birth to her and hubby Harry Hamlin's first child later this spring. Milano has inkied a development with Columbia TriStar Television.
FOX has also renewed fan favorite BEVERLY HILLS 90210 for its ninth season. PARTY OF FIVE has been picked up for two more years - its fifth and sixth on the air.