---
Signs of Love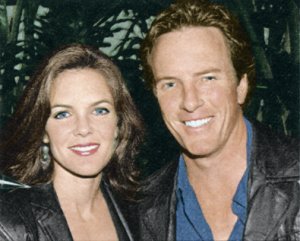 Some of soaps' real-life couples have love stories to rival their characters - and that's just in this lifetime! Astrologer Maria Shaw analyzed the mates' birth information (day, time and geographic location) to come up with romance readings that amazed (and in one case, irked) the obliging duos. Read on for intriguing insight into the former Bay City co-stars who have unfinished business from ANOTHER WORLD, the PASSIONate bride who has her Foxy hubby wrapped around her little finger and the unlikely Aquarius and Virgo who were destined to TURN each other on.
Susan Walters (Diane), September 28 and Linden Ashby (ex-Cameron), May 23
Once Upon A Time: The couple met on the set of LOVING: she played Lorna, he was the fourth Curtis. They married in 1986 and have two daughters, Grace and Savannah.
In The Stars: "These two are compatible signs: Libra and Gemini," says Shaw. "Life will never be boring and you won't find them home much. They'll share similar interests and appreciate many of the same things in life: like travel, music, social events, etc. Through Susan, Linden is learning about taking more risks in life. She sees his potential more than he can. And Linden is Susan's cheerleader in life, especially when it comes to her career. He'll encourage and push her to reach higher. The downside? Linden has a hidden jealous side and can be a little possessive of his 'woman.' (Although he'd probably never admit it.) Susan worries too much and may overanalyze things. One of the strong points to this relationship is communication - Linden will talk more than most guys. So, the lines of communication are good. Becaue both tend to pile too much on their plates, they'll need to make extra effort for quality time. If they play together, they'll stay together."
Response Time
Ashby: "We're home a lot more than we used to be. We've got kids, dogs, and horses so we're tired, but we travel quite a bit... She's always been much safer. I surf and fly a plane, I have a pretty healthy opinion of myself. I'm not jealous becaue I trust her. She loves me and I love her, it's that simple. If I had a reason to be jealous, I probably would be jealous. It's so true that Susan is overanalytical, I think playing together and staying together is accurate for any couple. We ride horses together, we have fun together and laugh quite a bit. We travel well and play well."
Walters: "I don't share the same interests in music. I love social events, but he's not much on that. We love to travel, but I hate flying. I don't push him to take more risks, that's totally backward. The next thing she'll be saying is, 'Through Linden, Susan will learn to be more responsible' [laughs]. I'm much safer, but he has his pilot's license because I got him the flying lessons. He was a phobic flyer and now, 15 years later, I'm scared of flying and he's fine. I also don't know about seeing his potential more than he does. Nobody thinks Linden is greater than Linden [laughs]. But he's absolutely my cheerleader. He's not possessive. I have friends whose husbands call them all the time, keeping tabs on them. I don't thik he has a jealous bone in his body. He's a good communicator, but does yelling count [laughs]? I am a big worrier, and I'm very analytical. I can't believe they got that from a chart!"
---
For more on Maria Shaw, whose books include Soul Mates and Cell Mates and Heart and Soul, visit her Web site at: www.mariashaw.com.