---
Photographs by Alan Levenson
By Karen Brailsford in Sherman Oaks and Pam Lambert
It happened without warning five years ago. Out of the blue, actor Linden Ashby developed a fear of flying. Just boarding a plane left him a sweating hulk, his pulse racing. His wife, actress Susan Walters, tried to talk him though it, but nothing seemed to help. Then she arrange for him to take flying lessons. "Once I learned how a plane works, how to control the situation," he says, "I was okay."
In Mortal Kombat, the smash movie based on the popular video game, Ashby, 35, looks firmly in control - and very much okay. As Johnny Cage, a cocky martial-arts movie star, he plays one of three mortals recruited to save the world from an evil sorcerer.
"Linden always says, 'Why do I get these confident, wise-guy roles?'" says Walters, 31, who played Priscilla Presley in the 1988 TV movie Elvis and Me and shares a four-bedroom Sherman Oaks, Calif., home with Ashby and their daughters, Savannah, 2, and Grace, 4. "But it's a part of him."
For Kombat, it helped that Ashby, a rock climber and amateur boxer, also has a blue belt in karate ("It's somewhere in the middle," he says, between white and black). "he kept on lobbying me to do more and more [stunts]," says producer Lawrence Kasanoff. "He really took a beating."
The guy can't help himself. Growing up in Atlantic Beach, Fla., near Jacksonville, Clarence Linden Garnett Ashby III, the youngest of three children of Garnett, a pharmaceuticals manufacturer, and Eleanor, a civic organizer, was already surfing at age 9. At Fort Lewis College in Durango, Colo., he kept a 3.5 GPA while minoring in skiing. He dropped out after his junior year to pursue an acting career in New York City.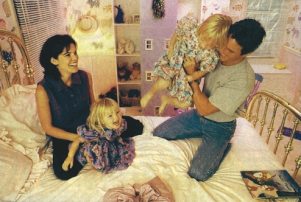 There, on the set of ABC's soap Loving in 1983 (he played calculating Curtis Alden), he met Walters. That first day, she says, "I told the makeup artist, 'That's the guy I'm going to marry.'" She did, in April 1986. A year and a half later the couple moved to Los Angeles to pursue their careers. Ashby had been canned from Loving because, he says, "I would fight for the integrity of my character," but after only three weeks he got a part in the miniseries Poor Little Rich Girl. Then he hit a dry spell. He didn't get what he thought would be his big break until he was cast as Kevin Costner's brother Morgan in the 1994 western Wyatt Earp. Ashby begs to differ with the critics who gave Earp a panning. "It's a film I will never apologize for," he says.
Nor will he make excuses for Mortal Kombat. "It's a big, fun ride," says Ashby, downplaying the PG-13-rated violence. But there is one thing that gives him pause. Call it fear of flying too high. "When I heard we'd made $10 million opening night, I got terribly afraid," Ashby says. "I've done so many jobs in which people have said, "This is it, your life is going to change.' This time, who knows, it might."