---
The Young & The Restless
This year, Genoa City became a batteground, with friends, families and longtime foes clashing over professional ambitions and personal desires. Secrets bubbled to the surface, as did one corpse and a few presumed-dead people. If you missed any of the shocking twists on THE YOUNG & THE RESTLESS, we'll straighten it all out for you!
Sharon's Deadly Encounter!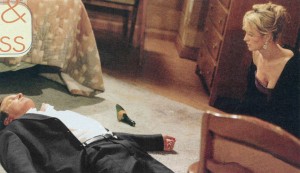 Cameron woke with a grudge, not a hangover.
The ball hadn't even dropped in Times Square before Sharon dropped a champagne bottle on Cameron's head. Believing that she killed her blackmailer, she dumped the sheet-wrapped body outside the motel. Weeks later, worried about the cops, Nikki's nosiness and the reappearance of rival Grace - who just happened to be looking for her boyfriend, Cameron - Sharon attempted to move the body but was shocked when it disappeared from her car trunk! Warton eventually confessed to stealing the corpse, and even showed it to Sharon when she believed that she was being haunted by Cameron's ghost. When flesh-and-blood Cameron sauntered into the GCAC, Sharon knew that therer would be no end to her torment, so she confessed everything to Nick. Shocked, Nick suspected that the sleazeball was trying to frame his wife for murder. His worst fears were confirmed when the identity of the real corpse was discovered to be Frank Barritt - Sharon's ex-boyfriend and Cassie's biological dad! As the walls closed in on Sharon, Cameron offered to save her by flying her away. Nick used Cameron's obsession with Sharon to entrap the villian, although they faced some dire moments before he confessed. Once the evildoer was carted off to jail, Sharon and Nick turned their attention to the business world, where Sharon secured a job at Jabot while Victor returned the reins of Newman Enterprises to Nick's hot little hands!