---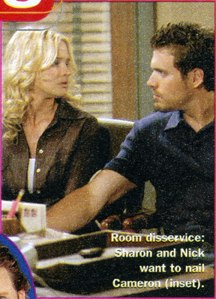 Room disservice: Sharon and Nick want to nail Cameron (inset).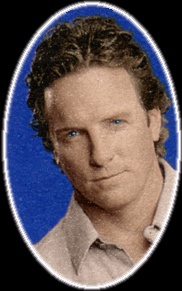 Y&R Nick Sics Sharon on Cameron
Cameron hangs the DO NOT DISTURB sign on the door this week on The Young and the Restless when he summons Sharon to his hotel room.
Against his better judgment, Nick lets her go. "Personally, I had real problems with the idea of someone allowing his wife into the proverbial lion's den," admits Joshua Morrow (Nick).
I can't imagine I would ever allow my wife to go back into the room with a killer. I've resigned myself to the fact that they thinkt he only way out of Sharon facing a long prison sentence is her going in and working this guy to get him to implicate himself. Plus, Nick knows Cameron is much too clever to do something stupid in a hotel room with people around."
After accusing Sharon of trying to seduce him, Cameron tells her that a sexual encounter isn't enough to win her freedom.
"At the beginning, she's playing a game with him and trying to get his trust," previews Morrow. "She's trying to get into his good graces and get him to lower his guard a bit. That's their plan. I don't know if it's great, but they don't have a lot of options."
Though Sharon leaves Cameron laying nary a finger on her, she tells Nick she's convinced Cameron wants to possess her. "The truth is, Cameron is in love with this woman," states his portrayer, Linden Ashby. "In Denver, they were making love and she said Nick's name, and he lost it. He's a guy who's used to getting what he wants. He tells her he loves her and that he doesn't want sex. That's not what it's about. It's about something more. He wants the whole enchilada, the whole tamale, the entire can of Coke."
Is the storyline fizzling out now that Cameron is being written into the proverbial corner? "I see the writing on the wall that this story is ending," believes Morrow. "This guy can't keep jerking Nick and Sharon around. It makes me a little sad, because it is by far my favorite that I've ever done."