---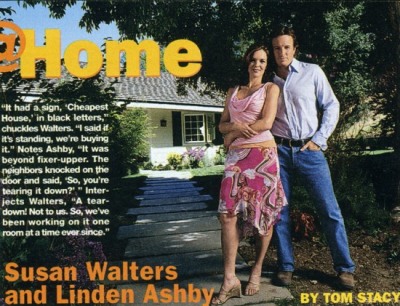 "It had a sign, 'Cheapest House,' in black letters," chuckles Walters. "I said if it's standing, we're buying it." Notes Ashby, "It was beyond fixer-upper. The neighbors knocked on the door and said, "So, you're tearing it down?'" Interjects Walters, "A tear-down! Not to us. So, we've been working on it one room at a time ever since."
@Home - Susan Walters and Linden Ashby
By Tom Stacy
When YOUNG AND RESTLESS's Susan Walters (Diane) and Linden Ashby (ex-Cameron) met in New York in 1985 while appearing on LOVING (as cousins Lorna and Curtis), little did they know that years later, they'd be raising horses on the outskirts of Los Angeles. "Having horses was not an issue when we bought the house five-and-a-half years ago," states Walters. "We thought maybe Linden would have an office out in the barn. But the girls [daughters Grace and Savannah] took lessons, and Linden grew up with horses, and I did that movie HORSE SENSE." "It was a series of unfortunate events," laughs Ashby. "Yes, unfortunate, expensive events," quips Walters.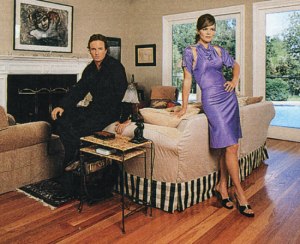 "It's a nice house to entertain in," smiles Walters. "We do have great parties. It's not a huge house, but it doesn't have [separate] rooms. The living room, dining room, den and kitchen are all open and connected - like a 'z.'" "Our parties are quite famous. Or is that infamous?" chuckles Ashby.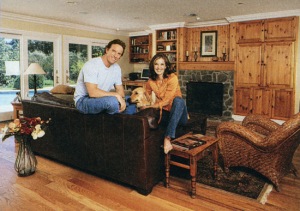 "We have a lot of photos around because our families are on the East Coast," nods Walters, "I do love Linden's leather chair because it reminds me of him." "And we just got a new plasma TV," chimes Ashby. "That's all he cares about," sighs Walters. "You should have seen how angry he got at it when it was failing [to work properly for] him." "I couldn't figure out the aspect ratio on the DVD," he defends. "He was like a teenage girl," she counters, "If our girls would have been acting that way, he would have said, 'girls, grow up.' You were pathetic." "It's better than the dinky TV we used to have," Ashby mutters. (Also pictured: golden retriever Annie.)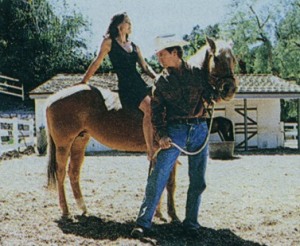 "There's Mr. Ranch Hand and me in my riding gear," jokes Walters. "We ride all the time," nods Ashby. "We're about 10 minutes away from 3,500 acres of open space that connects to another 5,000 acres of open space, which goes all the way out to Simi Valley. It's a great neighborhood for kids here and has a real sense of community which you just don't find much anymore. I drive through the neighborhood and say hi to 50 people. They don't wave back, but I wave to them."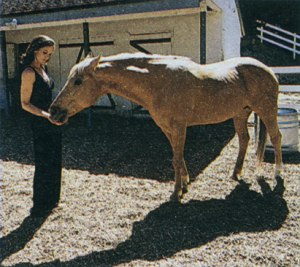 The Ashby brood includes two dogs, Annie and Cosmo, cat Barney and four horses: Goldie, Coco, Georgia and newest addition Abaco. "Georgia was huge when she was pregnant," recalls Walters, "She had baby Abby on the night of Mother's Day. [Twelve-year-old daughter] Grace was out there the whole time, helping with the birth." Beams Ashby: "Grace cleared the baby's nostrils, cleared its mouth and was right there when Abby took her first breath."