---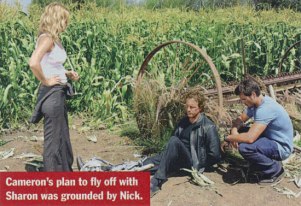 Cameron's plan to fly off with Sharon was grounded by Nick.
Nick & Sharon Nab Cameron!
As Grace went into hiding, Cameron told Sharon that the only way whe could avoid prison was by fleeing the country with him. Hoping to trick a confession out of him, she agreed, thinking she and Nick would have a day to come up with a plan. But Cameron insisted they leave immediately! Sharon left a cryptic message for Nick, who snuck aboard Cameron's plane before it could take off. Once airborne, Cameron confessed to Sharon. Nick emerged and beat up his rival, after which all three of them bailed from the plane to escape Cameron's henchman and parachuted into a field. Before long, Cameron was in police custody, and the Newmans returned home, where Victor and Nikki threw a party to celebrate the end of their ordeal.