---
Gold Star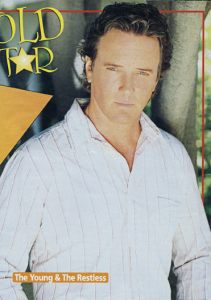 From the day last winter when Cameron first appeared on THE YOUNG & THE RESTLESS, Linden Ashby has been like master sculptor, chiseling out sharp edges and deep, dark hollows to create a character who is as dangerous as he is debonair. While there has always been a nail-biting quality to each performance that Ashby has delivered, even that can grow stale without shome sort of evolution. In a masterful twist, just when you thought you had Cameron figured as a truly evil, self-absorbed schemer, the actor carved more layers into the role, adding dimension and revealing hidden vulnerabilities.
Such was the case when Cameron finally confessed to Sharon why he had not only assaulted her in Colorado but had followed her to Genoa City to continue the torture. After acknowledging Sharon's perception of him as a sadist, he went on to suggest that there was more to his violence against her than brutal bedroom games. "Like a connection so deep that I couldn't bear the thought of never sharing it with you," he told her with quiet intensity, "I knew I wouldn't, because when we where making love, you said a name. Nicholas. And I knew you weren't there with me. And in that moment, I couldn't live with that."
The confession felt a little like a jigsaw puzzle pieces falling into place, a eureka moment that left us with a profound sense of discover and understanding of the root of Cameron's obsession.
Scene Stealer
Ashby struck the perfect note by holding onto Cameron's mantle of toughness - never once did you think that he would dissolve into tears - while at the same time revealing the software mogul's almost painful susceptibility to Sharon. Yes, Cameron is crazy about the blonde beauty, but in his own twisted way, he also cares.
Later, Cameron teetered more toward the crazy when he encountered Diane at the GCAC bar and imagined Sharon in brunette's place. The scene offered us a touch of whimsy, because Ashby happens to be wed to Diane's portrayer, Susan Walters. But the moment never lost the thread of pathos that always tangles up Cameron.
Crazy For Her
More of that pathos was revealed when Cameron later told Sharon that she could escape prison only if she ran away with him. She could even bring her kids, he offered eagerly.
Oh, we know that this guy is bad and even a little mad, but it speaks volumes about Ashby's acting ability that while we want justice to be done, we can't help but feel a tad regretful over saying good-bye to this dastardly character. Perhaps like Michael Baldwin, a creep we once thought impossible to redeem, Cameron (and Ashby) will someday be back.