---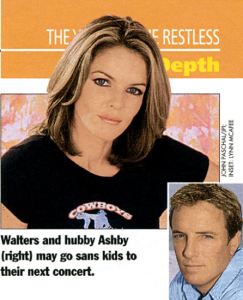 Walters and hubby Ashby (right) may go sans kids to their next concert.
Facing the Music
Talk about the best-laid plans. Recently, Susan Walters (Diane) and hubby Linden Ashby bought some very expensive, much coveted U2 tickets. "We were so excited," she recalls. "We really anticipated this concert." So much so, the couple took their two girls, Grace and Savannah. But so much for the family that concert-goes together. "We stayed for 2 1/2 songs; the girls were so excited, but tired from a birthday party. So I bought Grace a mocha frappucino, and it was just too much caffeine. She threw up. Then Savannah fell asleep!" Ashby however, remained calm. "He was like, 'What are you gonna do?'" Ever the practical one, Walters decided to cancel an upcoming facial treatment to make up for the expensive-yet-disappointing night out. "I told [my husband] I'd make up for our losses by not spending the money!"

---
That's a Fact
Walters worked with Maureen McCormack on ELLEN: "Marcia" recognized Walters from the famous SEINFELD episode.