---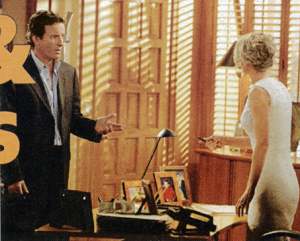 When Cameron suggested they take a trip, Sharon wanted to tell him where to go!
Storyline Recaps - Young & the Restless
Cameron Makes An Indecent Proposal!
Cameron accused Sharon of trying to seduce him into a confession and then shocked her by implying that the only way she could avoid prison was by fleeing the country with him! Promising to think it over, Sharon returned home and told Nick about her tormentor's ultimatum. Having unsuccessfully tried to coax Grace out of hiding, Nick urged Sharon to agree to Cameron's demand and raced to persuade Detective Weber to set up a sting operation. Alas, while Nick was pleading with the detective, Sharon went to Cameron's hotel and agreed to his terms, only to be shocked when he insisted they leave the country immediately!