---
Crazy for Each Other
Linden Ashby and Susan Walters prove you can mix business with pleasure!
By Julie McElwain
When Linden Ashby (Cameron) and Susan Walters (Diane) first met on the set of the now defunct daytime soap LOVING - where they played Curtis and Lorna, respectfully - he says he though she was the prettiest girl he'd ever seen, while she recalls having the oddest sensation that she was staring at her future husband. Now, 18 years and two beautiful daughters (Grace and Savannah) later, Soap Opera Previews asked the happily married couple to sit down to dish the dirt on that first meeting, working together again on THE YOUNG & THE RESTLESS and what make their relationship thrive.
Soap Opera Previews: On LOVING, you played first cousins. Was it odd to have that relationship onscreen when offscreen you were starting to date?
Susan Walters: It was interesting because I was working with this guy where I had just zero chemical reaction. I was just so not hot for the guy I was working with. Adn then I would do a scene with Linden, and we would be looking at each other. Viewers started to write in saying that we should be together! The show ended up not letting us be together in the same scenes anymore.
Linden Ashby: Because it was too weird.
Walters: It was so obvious that we had something going on, compared to being in love with someone else on the show.
Previews: What's it like to be working together again on Y&R?
Ashby: I slept my way into this job! Actually, we've worked together a lot. We did LOVING, THE WAR NEXT DOOR for USA [Network], we did MELROSE PLACE together and an episode of SPY GAMES... and now this.
Previews: Have you been able to hang out much together on the set?
Walters: When he's there, I'm not.
Ashby: But every once in a while, we do. We carpool together and share a dressing room, which is great. It's like I finally have a hot girl in my dressing room. I kind of feel like when we're there together, this is her world.
Previews: Do you watch each other's performances and give critiques?
Walters: I honestly haven't watched... Our VCR doesn't work at home, and I've seen very little of Linden on the show. But we rehearse a lot together, and it's great. The best scenes that I've ever done are because Linden helped me. There was one, and I'm like, "Oh, I can;t do that!" But Linden gave me very clear advice.
Ashby: I'm so bad, because at 11:30 in the morning [when Y&R aris on the West Coast], I'm busy doing other stuff. And I'm not a huge fan of watching myself.
Walters: He said he didn't even watch my kissing scenes with Damon [Keith Hamilton Cobb]. I walk in, and he was like, watching sports! I'm like, "Didn't you see me with Damon?" By the time I left the set and walked into the dressing room, he had turned on basketball! And me... I don't want him to critique me as a husband; I want a critique me as my husband; I want a critique as my acting buddy. I'm like, 'How was it? Was it okay?" He's like, "Yeah, sure, it's okay."
Previews: Is it good to be married to another actor?
Ashby:
It's a ball and chain. She holds me down! No, really, it's good. She understands my insanity and you try to understand theirs. There are very few actresses that I would marry, though. Very few! As a breed, I love them, but I wouldn't want to marry 'em!
Previews: Susan is obviously the exception to the rule.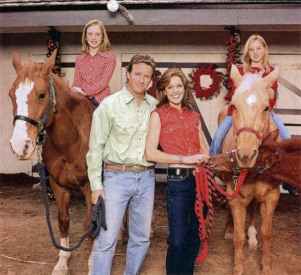 Ashby: No. I wast just young and stupid! We've been married through our entire career, pretty much.
Previews: Would you like to see Diane and Cameron hook up?
Walters: I think Diane would like to know the dark side of somebody. I think she's attracted to that.
Ashby: Well, Cameron is so dark, he's black!
Walters: On the outside, he's really kind of a cool, charming guy. But Diane would suspect there's something underneath, which makes him all the more appealing.
Previews: What do you consider each other's best traits?
Walters: Dependability.
Ashby: The ability to work in faraway places for long periods of time!
Walters: No! That's not true!
Ashby: Okay, then, that I pull through in a pinch.
Walters: At the end of the day, when all else fails...
Ashby: I do come through.
Walters At the 11th hour...
Previews: What do you think your own best trait is?
Walters: My ability to overlook things! No, really, empathy.
Ashby: My devilishly good looks and sparkling personality, of course!
Previews: How do you guys unwind after a long day?
Ashby: Drink?
Walters: A night without children!