---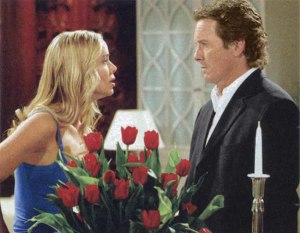 Cameron's withering gaze could wreak havoc on Grace's flower arrangement. But a vocal fan following has blossomed in the wake of Linden Ashby's good-'n'-naughty performances.
Message Board
Now's your chance to tell the stars and producers what you really think!
Author
Hot Topic: Cameron and Grace
Nakia K
via E-Mail
A Woman Scorned
I knew Grace was up to her false eyelashes in the whole haunting of Sharon! What I don't know is why Grace has this need to destroy her former friend. After all, she was the one who slept with Sharon's husband and nearly destroyed her marriage. If Grace had one ounce of conscience and goodness, she'd go slink back under a rock where she belongs!
Madeline Kristianson
Kansas City, KS
Dirty Rotten Scoundrel
Bravo to THE YOUNG AND THE RESTLESS for hiring Linden Ashby to play Cameron. I've been a fan of his for years, and he dplays as good a villian as he does a hero! The guy has proven he's an incredible talent and a terrific asset to the show.
Quinn Morgan
Foston, MN
Crazy For You
Grace needs to borrow Sharon's shrink's number, because hse's obviously crazy! How cdould she not see the snake behind Cameron's charming smile? I know the guy is handsome and all, but honey, wake up and smell the coffee - he's dangerous! If you ask me, Grace had better watch out, because she could be her boyfriend's next victim!
Born2shop
via E-Mail
Y&R Kudos
This whole Cameron/Sharon/Nick/Grace storyline has had me on the edge of my seat. While I want to see Cameron and Grace get their just desserts, I also don't want it to end! Keep up the good work! I've watched Y&R for years and have never been so intrigued - they deserve the Emmy they got!
Stargazer255
via E-mail
United They Stand
Sharon may have been terrorized out of her mind - literally - by Cameron, but she should thank him for one thing. Her relationship with Nikki is obviously back on track. While I loved the two bickering with each other, I really was touched by the episode where Nikki put aside their differences and confronted her daughter-in-law. It's scenes like this that have kept Y&R at No. 1!
Dalyce Moore
Minneapolis, MN
Bad Boy
Move over, David Kimble! I always thought he was the best daytime villain that I've ever seen, but now I can honestly say that Cameron Kirsten has taken his place! The guy is downright spooky! I've never enjoyed the show more!
Crzy4u
via E-mail
To Tell The Truth
Am I the only one who doesn't feel bad for Sharon? She should have told Nick everything as soon as Cameron came into town and started tormenting her. If she would have done that, she could have saved herself a world of misery!
Sidney O'Malley
Cincinnati, OH
Vengeance Is Sweet
Grace has been a thorn in Nick and Sharon's side for years, and I think she's finally going to get everything she deserves! She's obviously hooked up with a very dangerous man, and I can't wait until she finally sees Cameron's true face! Thanks, Y&R, for making sure that this no-goodnik gets shown the bad time she has earned.
Here's How To Post Your Message:
Email: cbsboards@soapsindepth.com using the show you are writing about as your subject line, or write: CBS Message Board c/o Soaps in Depth, 270 Sylvan Avenue, Englewood Cliffs NJ 07362. All correspondence is the sole property of Soaps in Depth and may be edited for style or space.