---
Linden Ashby Johnny Cage
By Marc Shapiro
Linden Ashby has heard it all before. "Are you ready for your life to change?" "Sure, I'm ready for my life to change," chuckles Ashby, who's hoping for a life-changing experience in the role of action film superstar Johnny Cage in Mortal Kombat.
Ashby is no stranger to Mortal Kombat. He has played the video game long enough to "know I wasn't as good as most 11-year-old kids." But his lack of gaming skills wasn't the main reason he considered passing on Mortal Kombat.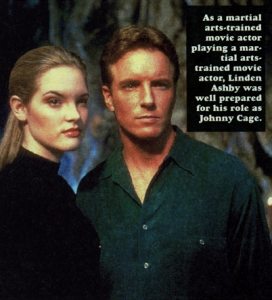 As a martial arts-trained movie actor playing a martial arts-trained movie actor, Linden Ashby was well prepared for his role as Johnny Cage.
"My initial reaction when I was approached to do Mortal Kombat was to say, 'No thanks,'" says the actor candidly. "I was coming off Wyatt Earp and my next movie was very important to me. But then I took a closer look at who was involved. Here was Larry Kasanoff producing. Alison Savitch was doing the FX and Christopher Lambert was willing to co-star. Some pretty heavyweight people were putting their reputations into making this work. So, I thought about the fact that this could be everybody's big movie and decided that Mortal Kombat was a good place to be."
It also didn't hurt Ashby's decision-making process to discover that writer Kevin Droney had painted a fairly complex caricature of Johnny Cage.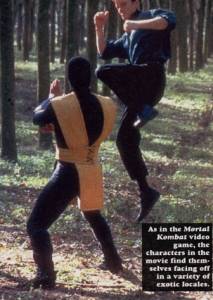 As in the
Mortal Kombat
video game, the characters in the movie find themselves facing off in a variety of exotic locales.
"Johnny Cage is this martial arts movie star who, on the outside, is very cocky and full of himself," describes the actor. "But, as the story unfolds, we discover that he's haunted by the fact that the world thinks he's a fake. So, when the opportunity to participate in the Mortal Kombat tournament is presented to him, he seizes the chance to prove that he is the real thing. Johnny is a character with real conflicts and, as the film progresses, we see him get through the conflicts and find out who he is, and that he really is good. The character of Johnny is pretty much like all the others in this film in that he has his demons."
However, Ashby points out that there's more to Cage than runaway angst. "Johnny has a real tongue-in-cheek sense of humor about him. He's the guy with all the one-liners. He thinks he's ready for this tournament and suddenly, he's dealing with sorcerers and magic and gods and things you just don't see everyday. His response is to not quite believe it. 'What? Who? Legends? Gods? What legends?'"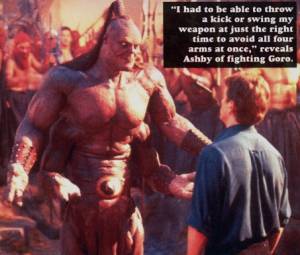 "I had to be able to throw a kick or swing my weapon at just the right time to avoid all four arms at once," reveals Ashby of fighting Goro.
Ashby says that he was already fairly well-versed in the martial arts prior to Mortal Kombat. "But once I got the part, they put me with [fight choreographer] Pat Johnson for two solid months of intensive training. And it wasn't just your typical martial arts movie moves. Since each character in the Mortal Kombat video game has his own special moves, I had to become very adept at Johnny Cage's - the shadow kick and the split. So, I practiced day in and day out, and by the time we started shooting, I could do those moves in my sleep."
His memories of making Mortal Kombat belong largely to the action element. "Fighting Goro was fantastic! I had to be able to throw a kick or swing my weapon at just the right time to avoid all four arms at once.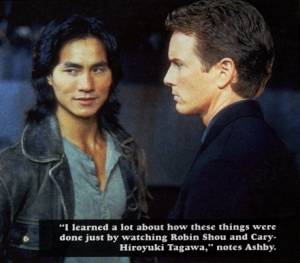 "I learned a lot about how these things were done just by watching Robin Shou and Cary-Hiroyuki Tagawa," notes Ashby.
"It was a real education just being around all these martial arts people, watching them work and then having to fight them," he explains. "Most of the actors also had some experience doing these kinds of action sequences, and so I learned a lot about how these things were done just by watching Robin Shou and Cary-Hiroyuki Tagawa."
Ashby acknowledges that making "the story behind the video game rather than just being the video game" was the big challenge in bringing Mortal Kombat to the screen. "In the acting and in the action sequences, we took it over the top but kept it believable. We're giving this a great deal of depth that doesn't come across on the printed page. The relationships are real within the context of this whole fantastic adventure."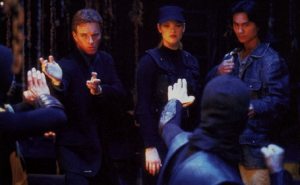 and Ashby gives most of the credit to director Paul Anderson. "He was very flexible. He would change dialogue if the actors weren't comfortable with it. Everybody had input."
Ashby was born and raised in Jacksonville, Florida. He began acting in college productions and, upon graduation, went to New York where he took his acting career to the next level while studying at the famed Neighborhood Playhouse. Parts in local theater productions of Rags to Reubens and Three-Handed Hearts soon led Ashby off-Broadway in The Hunchback of Notre Dame and But Mostly Because It's Raining.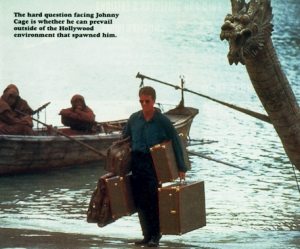 The hard question facing Johnny Cage is whether he can prevail outside of the Hollywood environment that spawned him.
He eventually came to Los Angeles where he continued his studies. He soon landed his first film role in the horrific Night Angel and went on to appear in Into the Sun and 8 Seconds. The actor also did guest shots on the TV series China Beach, Equal Justice, the mini-series Poor Little Rich Girl and the Showtime movie 15th Phase of the Moon. "I did aome stuff that didn't really work out as well as some stuff that has."
One thing that worked was Ashby's relationship with director John Avildsen on 8

Seconds. "John said he would put in a good word for me when he could. I thanked him, but you hear that all the time so I forgot about it and, after 8 Seconds, I went on vacation. But John was serious and when he heard Lawrence Kasdan was casting Wyatt Earp, not only did he call him up, but he sent him a tape of my work. I got a call that said, 'Get back to LA because Kasdan wants to test you for Wyatt Earp.'"
Linden Ashby ended up with the role of Morgan Earp. "I'm really proud of that film. It did not do the business that people expected it to do, but we made the movie we wanted to make. The movie was a blast and I really helped my career."
The Mortal Kombat hero notes that this film is taking some liberties with the source material. "The game, as everybody knows, is incredibly violent. The movie is PG-13. We're keeping the essence of the game. The bottom line with Mortal Kombat is that we're telling a good, solid story that happens to be in a fantastic setting."