---
Behind the Scenes: Ghosts in the Graveyard
John McCook (Eric) digs up a spooky new movie role
by Amy Holmes
THE BOLD & THE BEAUTIFULS's Eric Forrester might think his wife Stephanie, is scary at times, but it's nothing compared to some of the extracurricular film projects that his portrayer John McCook, has been involved in. Last year, in his first movie for up-and-coming director Farnaz Samiinia, McCook dealt in dead bodies while playing a confounded coroner on the verge of retirement. More recently, a haunted cometary was the setting for the actor's latest role. Go behind the scenes with McCook during the filming of Plot 7 - an eerie psychological thriller about a young couple who get way more than they bargained for after inheriting a funeral home!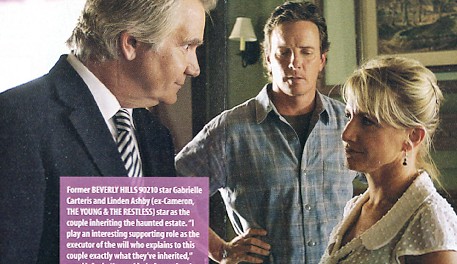 Former BEVERLY HILLS 90210 star Gabrielle Carteris and Linden Ashby (ex-Cameron, THE YOUNG & THE RESTLESS) star as the couple inheriting the haunted estate. "I play an interesting supporting role as the executor of the will who explain to this couple exactly what they've inherited," says McCook. "It was kind of a goofy role. My character wasn't exactly funny, but he was a little less than serious. I had to find a way to play him without ending up looking like Eric Forrester."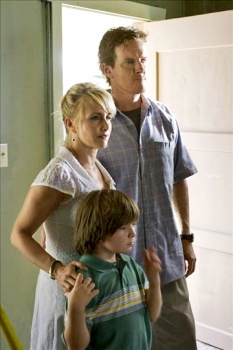 Much like the creepy role he played on Y&R several years back, Ashby's character in the film is literally out for blood! "He ends up killing his family," filmmaker Samiinia explains. "But there are several twists in the movie. You wonder if it really happened or if it was all in his head."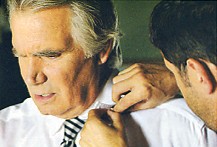 As a costumer readies McCook for his next scene, the actor concentrates on his pages of dialogue. "I'd do another movie with Farnaz in a minute, because it's a chance to do something different," he says. "It's nice to see yourself accomplishing a different role." For her part, Samiinia loves McCook's professionalism. "He doesn't have an ego," she says. "He doesn't act like, 'Oh, she's young and inexperienced.' He listens to me and follows my direction perfectly."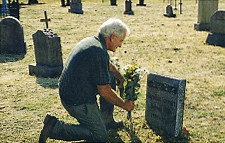 Nicholas Coutier (ex-Eduardo, AS THE WORLD TURNS) appears in the movie as a man who's deceased wife is buried in the graveyard. "He goes and visits his wife once in a while," notes the filmmaker, "but he knows the truth about the cemetery - that it's haunted."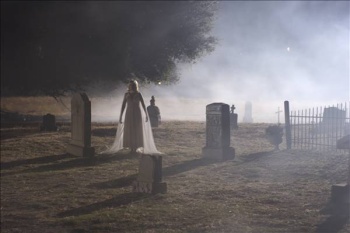 McCook's wife, Laurette Spang, plays a ghostly specter who wanders through the spooky graveyard. "It was fun for her," says McCook, "but she had to do three consecutive nights of shooting where they didn't start until 11 p.m., and she'd be there until four in the morning."

After the debut of her first short film (in which McCook starred), director Samiinia made a promise to herself. "I told myself that if my first project was a success, I would keep using him in all of my films for as long as I live! He's my lucky charm." The director - former B&B intern - says she's already trying to decide which role McCook will play in her third film. "It hink that a lot of people just know him as this soap actor who is huge on B&B, but he can do so much more. That's something a lot of people don't know about him."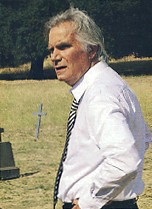 Although McCooks' scenes had some foreboding elements, he explains that he tried not to play up that aspect. "The whole point is not to telegraph that the spooky stuff is going to happen," he says.